GameOgre.com received the best gaming chair last week. This is the second chair from Ewin. While the first chair was red white and black, this chair is full-on black. The seats are also different at least cosmetically as this one has more of a webbed appearance. The first one is from the hero series while the second is from the champion series. Both exude quality, the kind that you would find in a big esports tournament.
Gaming chairs are always needed if you are serious about gaming and plan to spend many hours straight in the chair. Although designed for the enduring comfort of gamers, the two pillows and high back make easy to relax whether gaming, watching a movie, chatting with friends, drinking coffee etc.
In fact, gaming chairs were first designed for racing games such as Need for Speed and Dirt. The concept was for the chairs to make you feel like you were riding in a very sporty car. Furthermore, the chair is very comfortable for people like me who are 6 feet or taller because the back is very high up.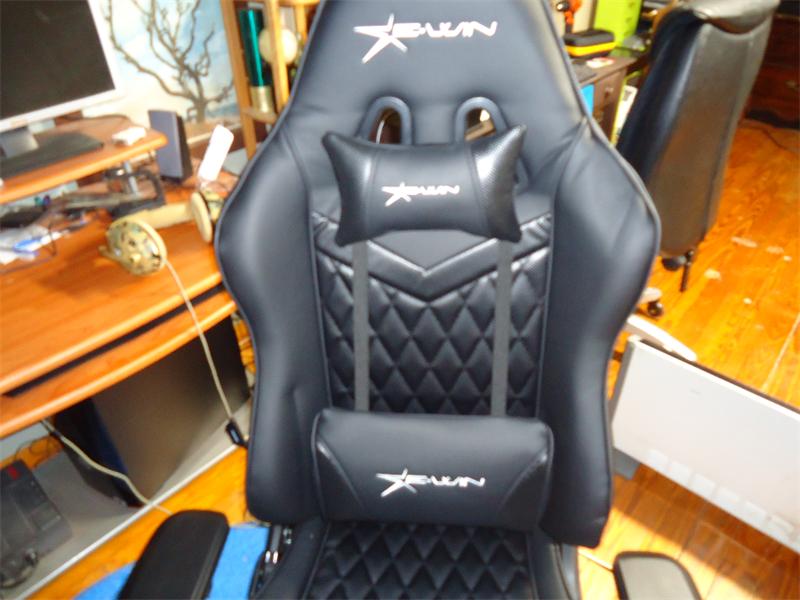 Thus, a big "ogre" can sit in this chair all day long playing games or working on the computer and not experience any pain that you would normally expect for sitting that long. This is why you see a lot of chairs like these at the top esports tournaments around the world! Hence, these chairs usually carry a high price tag.
However, to help with the cost on their website, EWin is offering a 15% off discount code (GO) to GameOgre.com visitors!
Key Features:
4D Adjustable Armrests
Ergonomic
Two Pillows
Top Grain Leather Material Superiority
Height Adjustable For Raising or Lowering
Durable Steel Frame
Aluminum Five Star Base
Strong Gas Lift
Cold Molding Foam
Lever Operated Back Recliner
Tilt Lock
Tilt Control Mechanism