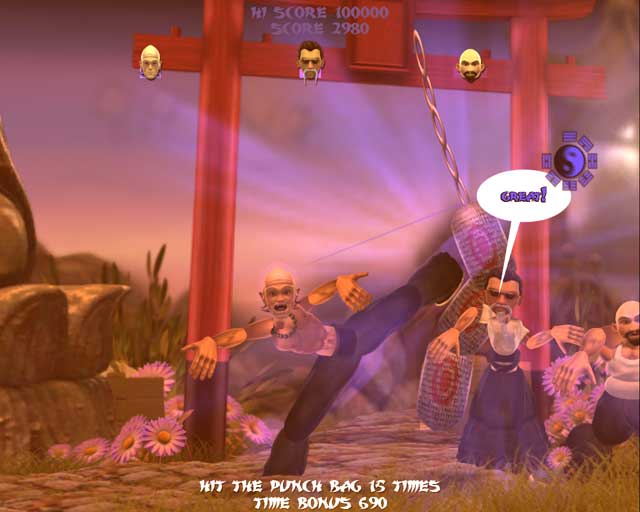 Imagine having a Kung Fu Fight with string puppets, except you don�t have to worry about getting the strings tangled up, and you dont have to have a kung fu fight. Featuring a wide collection of single and multiplayer games, either online or with multiple mice, Rag Doll Kung Fu provides players with one of the most creative and unique game experiences delivered in years. Rag Doll Kung Fu is the first wholly independently developed game to be distributed through Steam, using custom physics and graphics technology to give you a really fresh and unique games experience! It is not a 'Mod' and does not use Valve's Source or any other existing game engine. Steam makes it easy for you to download and play rag doll on your pc compatible computer. If you don't already have it, it's free to download from Valve Software.
Post Date: 14:24 30-11-2014
Rating: 2
Author: arZ
Comment: Rag Doll Kung Fu is fighting puppet game that is really interesting. Singleplayer or multiplayer mode and you can play online. Its free to play game, but its not so popular and the game play is really bad. Graphic is ok, but I really dont like this game. I rate it with the note 2/10!
Post Date: 08:05 10-07-2011
Rating: 4
Author: Webber
Comment: The one positive that I can say about Ragdoll KungFu is the name. Everything else is bad to horrible.
Post Date: 10:53 25-06-2011
Rating: 3
Author: cooldude671
Comment: A good fighting game
Post Date: 08:36 29-04-2011
Rating: 2
Author: sasuke24
Comment: A fun fighting only game. This game offer a nice bloody environment.
Post Date: 16:35 09-04-2011
Rating: 0
Author: Adrian
Comment: I was first a little confused about what this game was exactly lol. Even though its free from Steam, don't waste your time with it.
Post Date: 07:07 09-04-2011
Rating: 5
Author: EcLuD
Comment: Haha that made ??me laugh, the truth, if entertaining, but the graphics are very simple, but fun XD 5 / 10
Post Date: 01:21 24-09-2010
Rating: 0
Author: RandomZ
Comment: I really have no clue what on Earth this game is about…i mean, hitting a rag doll? If it's an old DOS game or Windows game I can consider giving this game some rating. But coming from Valve…a let down
Post Date: 01:26 29-08-2010
Rating: 0
Author: Traar
Comment: Stupid stupid piece of garbage. Its even worse on the PS3!
Post Date: 20:59 24-07-2009
Rating: 0
Author: neeyick
Comment: The game is stupid. the walking takes 4ever and overall its just garbage..i give 0..
this is almost as bad as runescape
Post Date: 02:07 26-07-2007
Rating: 0
Author: S1ck0rSan3
Comment: i played the demo of this game off of steam.
i have no clue why i did.
it stinks. very stupid. little point.
save your computers memory, RAM, and your life, dont play this game.