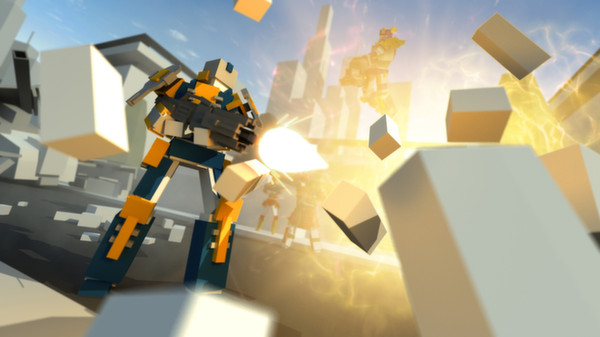 Set in a minimalistic stylized universe, Minimum features fast-paced combat with an elaborate blueprint crafting system that pits two teams against each other with their own gigantic robotic Titan. Collect materials from fallen foes and build damaging weapons to become deadlier as matches progress.
Post Date: 23:12 18-04-2015
Rating: 7
Author: LosmiK
Comment: Minimum is an entertaining online shooter that perfectly employs a texture-less and block-filled visual style. With a wide assortment of maps and various items to craft, Minimum is recommended to multiplayer shooter fans who've been looking for their next online addiction.
Post Date: 11:59 14-02-2015
Rating: 8
Author: axwellshm
Comment: It's a cool 3rd person shooter game. Finding a blueprints to upgrade your weapons is even more funnier. Graphics are really good and it has some cool maps and mods. Rating 8/10.
Post Date: 11:26 04-11-2014
Rating: 7
Author: Mihajlo
Comment: Minimum is an online third person shooter with MOBA elements. Main game mod is called Titan mod – 5v5 battle arena (Ranked and Deathmatch mods are in development). There are 5 different weapons with two abilities each. You upgrade weapon by finding blueprints. I rate this game 7/10.