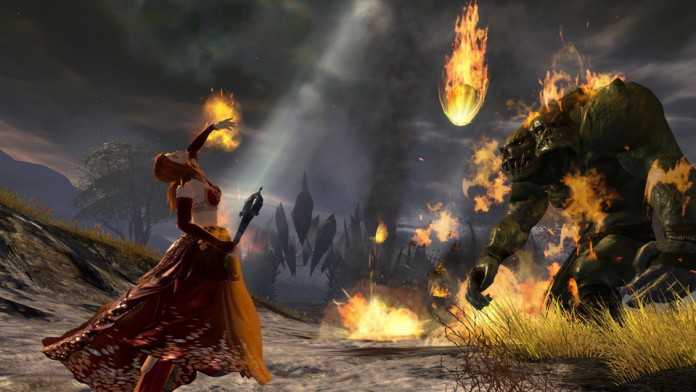 Guild Wars 2® World Championship Announced With Largest Ever Guild Wars Prize Pool of $200,000
Winners of Saturday's fierce Pro League Season 2 finals to secure entry
BELLEVUE, Wash – June 23, 2016: ArenaNet™, publisher and developer of the award-winning Guild Wars franchise, and ESL™, the world's largest eSports company, have announced the upcoming Guild Wars 2 World Championship; the culmination of the 2016 season and the previous two seasons of Pro Leagues. Developing on their eSports partnership, ArenaNet and ESL are introducing with the World Championship the largest ever Guild Wars franchise prize pool of $200,000.
On Saturday, September 17 at the ESL Studios in Burbank, California the top six teams from around the world will compete in a single-elimination tournament to decide who will claim the title of Guild Wars 2 World Champion. The winning team will walk away with $100,000 in prize money.
"After four years of updates and countless rounds of player-versus-player combat, we're very excited to announce the Guild Wars 2 World Championship," said Joshua Davis, Associate Global Brand Manager for Guild Wars 2 Competitive. "Working closely with the Guild Wars 2 community and our partner ESL, the Guild Wars 2 World Championships and the ongoing Guild Wars 2 Pro League events demonstrate ArenaNet's commitment to competitive play."
This Saturday, June 25 in Burbank, CA the finals of the ongoing Guild Wars 2 ESL Pro League Season 2 will take place.  The top six teams from both regions of the Pro League Season 2 have secured their entry into the qualifier for the Guild Wars 2 World Championship.  There will be one online qualifier per region which will be livestreamed on August 6 and 7. The top three winners of each will face-off in the grand transatlantic Guild Wars 2 World Championship.
"We are extremely excited to continue working with ArenaNet on Guild Wars 2, and the announcement of the World Championship demonstrates the influence of eSports as it continues to grow while spanning different titles and genres," added Craig Levine, CEO of ESL America.
The Guild Wars 2 Pro League Season 2 finals brings about the culmination of seven weeks of fast and furious combat, with 16 teams competing. Representing Europe in this Saturday's event we have Season 1 champions Rank Fifty Five Dragons as well as long-standing team The Civilized Gentlemen. Astral Authority and Team PZ will represent North America in the finals. Each highly competitive team brings a unique approach and philosophy to their Guild Wars 2 play, so viewers are in for a treat as the teams compete for a stake of the Guild Wars 2 Pro League Season 2 $100,000 prize pool.
A trailer for the Guild Wars 2 World Championship can be viewed here: youtube.com/watch?v=pWlWKbBpDdg.
Tickets to see the Guild Wars 2 Pro League Season 2 finals live in Burbank, California, this Saturday, June 25 (11:00AM – 4:00PM) are available for $10 here: eventbrite.com/e/guild-wars-2-season-2-finals-tickets-25144429666.
Tickets will go on sale for the Guild Wars 2 World Championship event in Burbank, California closer to the event.
All Guild Wars 2 eSports events will be livestreamed on the official Guild Wars 2 Twitch channel twitch.tv/guildwars2.