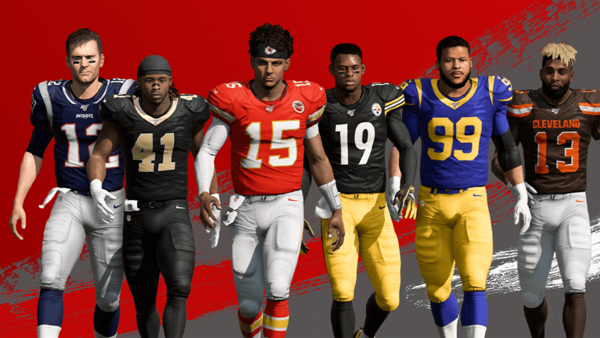 Started really playing Madden 20 after watching the New England Patriots barely get past the Kansas City Chiefs. Had not been watching the NFL besides the SuperBowls for close to 20 years at that point. Might have won the sportsbook offer because I had predicted the Patriots to win, but it was also a great game.  After really getting into playing Madden on the Xbox One, have spent a great deal of time in two very different modes: Madden Ultimate Team (MUT) and Franchise.
Madden Ultimate Team
MUT was the first mode I started playing and that was in Madden 19. This is the perfect mode to play for football fans who have not watched many games besides the biog one every year. There is plenty of content and challenges to keep you busy, plus the game features legends from the past. For those who are not familiar with the current players beyond Tom Brady etc. it is a welcome sight to see old favorites like Walter Payton and Jerome "the Bus" Bettis. Furthermore, the card auctions can be a lot of fun if the prices in the game really fluctuate. Madden 19 prices were so varied that could pick up a card for a low price and then flip it not long after for a huge profit! Did this with many players on a regular basis including Lamar Jackson and OBJ.
However, Madden 20's prices did not vary near as much which took a great deal of the fun out of it at least for me. Where Madden 19 kept me returning daily for new challenges and content, Madden 20's did not hold quite the same magic despite offering many players that did not appear in 19 such as Emmitt Smith and Randal Cunningham. Coupled with a server that would cut out during Online Battles and then record a loss for you no matter the score, it was time to move on to Franchise mode.
Franchise
Franchise mode allows you to pick a team, hold a fantasy draft, and then start playing seasons. This really worked for me especially when I switched to the offline mode because the Madden/EA server can be down or acting whacky and it does not hurt you at all! I am currently playing the Dallas Cowboys and am on the year 2036. This mode gives you a considerable amount of freedom to do whatever you want to do. For example, you can make your own players or you can base them on top college prospects. This why I am able to play for so long because almost all the current players have retired by now in my franchise.
Winning Game Mode?
Really depends on what you want and also how good your connection is most of the time. Either way, you can always watch football every week and use this site to participate even more.