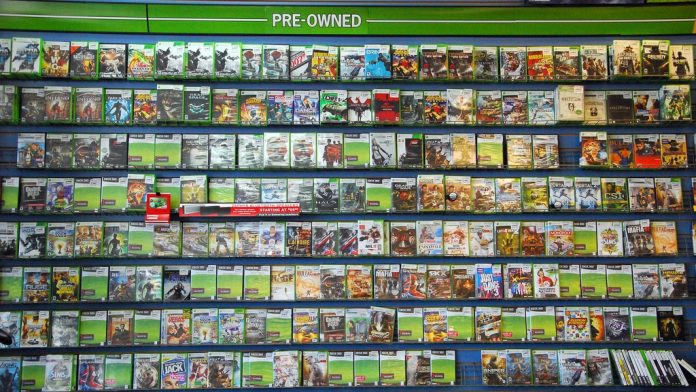 Sale of pre-owned games is experiencing a sharp decline.
In 2015 in the UK, for instance, pre-owned software was worth £123 million, but the number has dropped by more than 30% three years later, according to Kantar. Sales are reportedly down by £67.9 million.
The same is happening in the US, although the decline moves at a much slower pace.
GameStop's pre-owned sales in 2017 dropped by 4.6% and went further down by 13.2% in its latest financial year. According to the firm, the decline is due to pre-owned hardware increasing year-on-year.
Some people might be happy about this news. When information came out that Walmart-owned UK supermarket Asda will be selling second-hand games, the angry reaction caused a major PR nightmare.
Publishers hated the move since retailers have resorted to buying pre-loved games from consumers and re-selling them instead of buying from distributors of older (legacy) stock. Developers and publishers made zero penny from those sales.
Small publishers, however, don't hate the industry outright but calls it a necessary evil. They had to sell games at a price below the recommended figures to compete with the pre-loved sale and still make a profit.
One major problem that stemmed from this, however, is the second-hand trade-in economy. That is, users buy a game, play it until they've had enough of it, and then trade it in for another one. It was a rental system that a community of gamers support and still do.
Blame it on structural decline
Because the number of gamers who are trading-in products are fewer, the number of second-hand games and consoles are fewer as well. This is partly due to the shift towards digital and the decline in the physical sale of games. Games-as-a-service is also on the rise, resulting in consumers playing games for longer. It is also for this reason that they don't trade them in as much as they used to do.
Moreover, older titles are now accessible online at a heavily discounted price or offered as subscription memberships.
EA Access, for example, allows gamers to play the best EA titles with their membership. If they join, they get instant access to more than 50 games in the Xbox One collection.
PlayStation Plus, on the other hand, provides subscribers access to exclusive discounts, 2 free PS4 games every month, and the chance to play a multiplayer game online.
From trade-ins, legacy titles have increasingly become downloads and decreasingly second-hand games that are bought in stores.
Can the industry recover from the structural decline?
No, not in the long-term at least.
According to GAME CEO Martyn Gibbs, "There are things that we can do, and we are doing, in terms of better promoting our trade-in offers. But this is a structural decline, and management isn't going to put its head in the sand and pretend this isn't going to continue.
It is believed that a temporary uplift might happen in 2020 when new consoles are introduced in the market. But with the continued popularity of subscription services and the launch of Google Stadia and other streaming platforms, sale of pre-owned games will continue to decline.
Impact on sales of new games
The decline of the pre-owned market can be felt by retailers and publishers of new titles but not explicitly related to it. This is mainly due to the fact that gamers enjoy their games for longer and generally purchase fewer products. Most of their purchases are done digitally as well.
What are some of the popular used games and consoles people buy?
Nintendo Switch – Neon Red and Neon Blue Joy-Con
Nintendo Switch Pro Controller
PlayStation 4 Slim 1TB Console
Xbox Wireless Controller – White
HTC VIVE Virtual Reality System
Yoshi's Crafted World – Nintendo Switch
Sekiro Shadows Die Twice – PlayStation 4
Super Smash Bros. Ultimate
New Super Mario Bros. U Deluxe – Nintendo Switch
Red Dead Redemption 2 – PlayStation 4
Amazon, eBay, and other online platforms have a huge collection of second-hand games and consoles that you can purchase. With customer reviews that come with most items on sale, you'll know if you're making a smart purchase.
You have options
If buying second-hand games and subscribing to online platforms no longer holds a lot of appeal, you can always switch to a different kind of entertainment. Stay occupied with online games, for instance.
If you want to increase your chances of winning the game, visit blackjack.org and find the best places online to play, especially those that offer the best value for your money. With a bit of research, you'll have an edge!