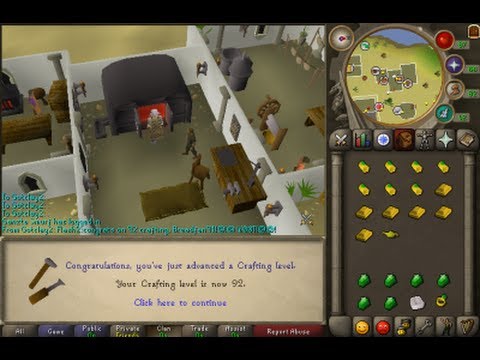 NEW INVENTION SKILL LAUNCHES IN RUNESCAPE
High-level players encouraged to discover, augment and customise using new elite crafting system
Tuesday 2nd February 2016, Cambridge, UK – Jagex Games Studio, creators and custodians of the fantasy MMORPG RuneScape, have released 'Invention' – the first ever Elite Skill in the game. Directed at high-level players to allow them to augment and customise existing weapons and armour with a wide selection of perks, this new tier of skill differs from those long established in RuneScape. Invention is not immediately unlocked for the player: instead, participation in this skill must be earned by gaining level 80 in other skills, namely Smithing, Crafting and Divination.
The introduction of Invention opens the possibility for players to optimise their favourite weapons to make them killers in all situations, or create armouries of gear perfect against dragons, demons, and other malevolent creatures. Players can even choose to take on bosses with negative perks to see if they can overcome the challenge, or search out the weird and wacky perks like 'Hallucination'. Furthermore, technologically advanced devices can be discovered, such as mechanised chinchompas and pogo sticks, allowing players to feel like a true scientific pioneer in Gielinor.
"The introduction of Elite Skills into RuneScape represents a new level of gameplay for our most loyal and passionate players," said David Osborne, lead designer on RuneScape. "The ability to augment and customise their weapons and armour from today allows for even greater differentiation between their characters and those of their friends and fellow players. We can't wait to see the variety of combinations players will create!"
The launch of the game's first Elite Skill is the latest content update launched as part of RuneScape's 15th anniversary celebrations, which continues throughout 2016.
Notes:
There are 26 standard skills in RuneScape. The first being Smithing (released as part of RuneScape on 4th January 2001) and the most recent being Divination, which was launched in August 2013.