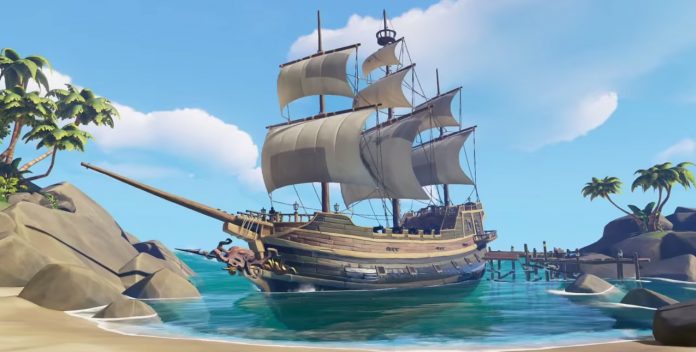 Sea of Thieves is a game of adventure you will experience with a team of other pirates. You have to try to loot and rank up with your teammates in the game. Sounds simple right? But there are some hidden facts you must know before starting to play the game. 
We have prepared this guide to help all the newbies who want to start playing Sea of Thieves so that you don't die easily and take home all the loot you get. Apart from knowing the hidden ins and outs of the game, you can try using Sea of Thieves cheats. 
The game is brutal; therefore, you should use all means to survive till the end. These are seven facts that you must know about Sea of Thieves before you sail. 
Join a team 
There is nothing in Sea of Thieves for solo players. Going alone is the worst thing you can do, and it will take just a few seconds for another pirate to kill you. Hence, look for a crew and sail together. 
The game supports up to six ships on a single server which makes a total of 24 crewmen on a map. Therefore, it is best to join a team that can look after one another when you sail. You can go in search of gold or accept quest requests from local companies. Make sure to search for the big red X to get an upper edge in the game. 
Select a team for different types of quests 
Apart from just sailing, looting and combating with your opponents, you can join in other quests as well. Joining such quests will help you get better items, level up for promotions, and get customization for your pirate. 
The three types of pirate companies that offer you quests in the game are- 
Order of Souls- In this quest, you will have to hunt Skeleton Captains and return skulls to get promoted. 

Merchant Alliance- In this quest, you will have to hunt animals and return with pelts to get promoted. 

Gold Hoarders- You will have to hunt for treasure chests and return with trinkets to get promoted. 
Watch for spyglass flash 
If you see a glimmer in the distance, be aware that your enemies are watching you through a spyglass. This is a sign that they might be preparing to attack and loot you. The same is applicable to you. If you are watching another crew with a spyglass, they will get to know about it. 
If you see any glimmer from a distance, you better prepare to defend yourself and sail away. 
Leave when the water turns black 
Blackwater equals danger. Hence, when you see the water turn black, leave or rush to a safe spot. Creatures like Meg, Kraken etc., might be lurking under the water, waiting for some weak ships to pass and attack. 
If your ship is not well equipped or your crew is less experienced, it's better to make your way to the safer zone. Even if you are well equipped, you should try to avoid these unnecessary battles. 
The edge of the map means assured death 
If you sail to the edge of the map in Sea of Thieves, you are sure to meet death. Therefore, the sooner you turn back and sail away, the better. It is even worse if you have a ship full of team members because they all will go down with you. 
Therefore, be cautious while sailing; you don't want to even go close to the end of the map. 
Watch below deck during storms and fights
In Sea of Thieves, you spend the majority of the time sailing on the upper deck. All the actions take place here. Therefore it's to forget about the lower deck. In the lower deck, you keep all your storage. 
During fights and storms, you should check out the storage and protect them. Even if you survive the attack and storm without storage, you will be powerless in the game.
Sailing isn't that easy 
Sailing the ship isn't easy in this game. You will constantly have to find routes, know the wind direction, watch for repeated attacks from nearby ships and monsters and know how to stop the ship. 
You can't imagine doing all of this playing solo as fighting and sailing at the same time do not go hand in hand. 
Wrapping up 
Here are the seven must-know facts about Sea of Thieves before you sail. Make sure to keep them in mind and follow the rules. If you have any further queries, let us know in the comments. Stay tuned for more related posts.