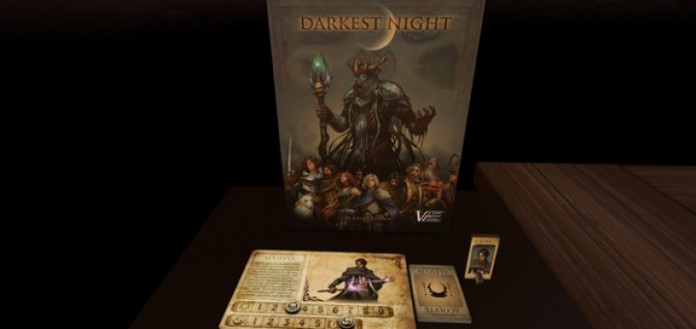 Darkest Night & Mistfall Comes to Tabletop Simulator!
January 11, 2016: Berserk Games is pleased to announce that they have partnered with Victory Point Games and NSKN Games to bring Darkest Night and Mistfall into Tabletop Simulator as official DLC.
Darkest Night DLC
Darkest Night, is a fully-cooperative board game for up to four players, set in a kingdom broken under a Necromancer's shadow. Each player takes on the role of one of the kingdom's last heroes, each with a unique set of special abilities, just as they hatch a plan to save the realm.
Darkest Night is now available for $6.99 (http://store.steampowered.com/app/433520). The first expansion With An Inner Light will be included for free in a future update.
You can read more about Darkest Night and purchase the physical board game at http://www.victorypointgames.com/darkest-night.html .
Mistfall DLC
Mistfall is a fully cooperative adventure card game set in a dark fantasy realm of Valskyrr. As one to four heroes, each with their own deck of special abilities and equipment, you will go on dangerous quests to face the monstrous minions and sinister machinations of the nefarious Mists. Be vigilant, be fast, and be on your guard, and brave the perilous world of Mistfall.
Mistfall is now available for $7.99 (http://store.steampowered.com/app/425960).
Darkest Night and Mistfall joins other DLCs, Euphoria by Stonemaier Games, Cosmic Encounter by Future Pastimes and Superfight by Skybound.
Tabletop Simulator
Tabletop Simulator was released on June 5, 2015 in Steam – http://store.steampowered.com/app/286160. Tabletop Simulator is a unique blend of multiplayer physics, a sandbox, and a prototyping tool. Create your own original games and rules, import 3D models & cards, set up complete dungeons for an RPG gathering, manipulate the physics, create hinges & joints, and of course flip the table when you are losing the game. All with an easy to use system integrated with Steam Workshop. Most importantly, you can do anything you want in Tabletop Simulator. The possibilities are endless!