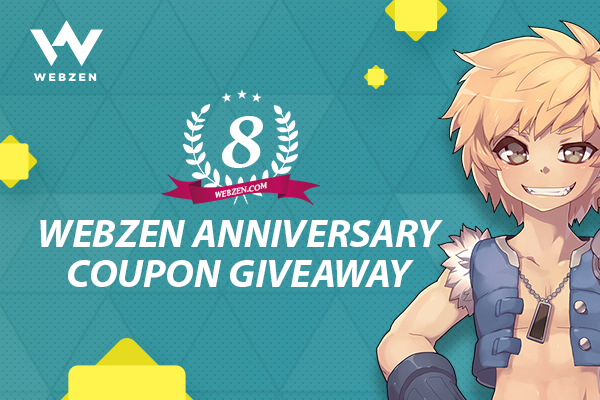 Webzen and GameOgre.com have teamed up to offer a special Webzen.com's 8th Anniversary Coupon Giveaway to GameOgre.com blog members. All you have to do to get a code is to register for this blog and post here requesting a code.  The code will then be delivered to your email address that you signed up with here. You can also get a bingo promo code by going there.
Event Duration:
Now – June 6, 2017 (UTC) 
Contents:
Select one WEBZEN.com game, and each code will give players a free item package for the selected game. A code is limited to only one WEBZEN game, specifically, RAPPELZ, MU ONLINE, FLYFF, and C9. Each code is limited to one use per account. A full list of coupon items is below.
Games
Items
RAPPELZ
Hidden Village Pass (7 days)
Traveller's Tent
Red Lydian
Ancient Horseshoe
Stamina Saver x5
Animal Cracker x5
Impact Amplifier (1 hour) x2
Mirror Amplifier (1 hour) x2
MU ONLINE
[Bound]Bless of Light(Greater) x5
FLYFF
Re-Skill (Event)
Re-Stat (Event)
Gray Tuxedo (M) Box (7 days)
Pink Dress (F) Box (7 days)
Kitty (7 Days Event)
Pink Balloon 6h x5
Blue Balloon 6h x5
Yellow Balloon 6h x5
(Event) Syila Bike Box (7 days)
Upcut Stone (Event) x10
Refresher Hold (Event) x10
Vital Drink X (Event) x10
Grilled Eel (Event) x10
C9
PC Café Premium Service [7 days]
Extreme Training [100%][1 hr]
Skill Reset Scroll [14 days]
Town Travel Lv.1 [7 days]
School Look Gear Set [7 days]
Resurrection Scroll
Soul: Prelude to the Storm [7 days]
Details:
–              Usable until: 30 July 2017
–              Coupon codes are limited to one use per account.
Redemption instructions:
Log in with your account
Select the game, country, server, and character you want to receive the item(s) on.
** The options in each category will vary for each game.
Enter the code (without hyphens)
Click 'Redeem Code'
The item(s) will be delivered to the account or character that you have selected.
If you are new to WEBZEN, please see the following;
Create a webzen.com account.
Go to http://www.webzen.com/ to download your game client and install it.
Choose a server.
Create a new character.
Note:
* Usable until: make sure to use the coupon before the expiration date
* Coupon codes can only be used with an existing WEBZEN account
* Coupon codes are limited to one use per account unless stated otherwise