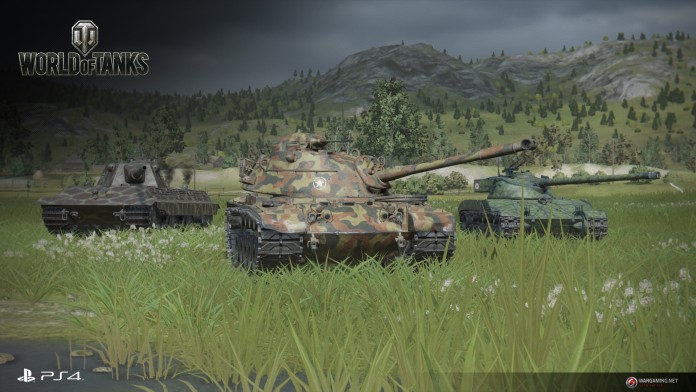 World of Tanks Launch Date Announced for PlayStation®4
Free-to-play hit available worldwide January 19
The wait is finally over for PlayStation®4 tankers! Wargaming today announced that World of Tanks will launch January 19, on PlayStation®4. World of Tanks will feature enhanced visuals, utilizing the full power of the PlayStation®4 system along with platform specific features and limited-time exclusive content for logging into the game.
Built specifically for PlayStation®4, World of Tanks incorporates platform features that elevate tank warfare on console with complete DUALSHOCK®4 functionality, Share Play and PlayStation®Vita Remote Play with optimized controls for the ultimate multiplayer experience. World of Tanks will offer Platinum Trophies, along with four different Founder's Packs containing a variety of Premium in-game content available now in the PlayStation®Store. Players that login before January 31, 2016, will be gifted theT1E6-PS US Premium Light Tank with exclusive camouflage.
World of Tanks on PlayStation®4 is free to all PlayStation® accounts and does not require a PlayStation® Plus membership to play. PlayStation® Plus members will gain access to a Premium Bundle at launch including the exclusive Pz.Kpfw. II Ausf. J German Light Tank bundle with 3 days of Premium Account time along with special discounts on other purchases.
To learn more about World of Tanks on PlayStation®4, please visit: http://console.worldoftanks.com/
About Wargaming
Wargaming is an award-winning online game developer and publisher and one of the leaders in the free-to-play MMO market. Founded as a privately held company in 1998, Wargaming has shipped more than 15 titles. Currently, Wargaming is focused on its team-based MMO war series dedicated to the mid-20th century warfare that include the armored World of Tanks, the flight combat World of Warplanes, and the naval World of Warships. The three intertwined titles form a common gaming universe integrated within the portal www.wargaming.net .
As part of its multi-platform line-up, the company has introduced World of Tanks on Xbox and World of Tanks Blitz on mobiles, tablets and Windows 10 PCs. Launched in 2014 and 2015, World of Tanks on Xbox introduced epic tank-on-tank battles to console gamers and offers the first cross-platform gaming experience between Xbox 360 and Xbox One. In 2015, Wargaming announced World of Tanks for Sony's PlayStation®4, continuing its console campaign.