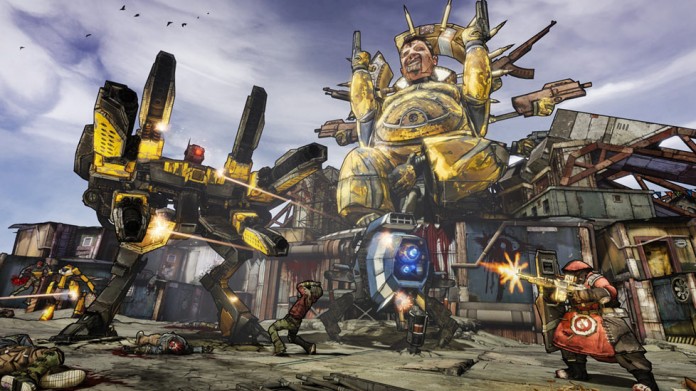 Borderlands sends up to four co-op players to the harsh frontier planet Pandora in search of a mysterious Alien Vault legend. Featuring a unique First Person Roleplaying Shooter gameplay, you'll customize your character as you explore and battle enemies in frantic FPS combat. And what would a Roleplaying Shooter be without loot? Borderlands has a groundbreaking content generation system that creates a near-endless variety of weapon and items to customize your character! Players can join and leave other players' games at any time, or choose to face the challenges of Borderlands alone. All these features combine with a deep, rich fiction and a bold art style to create a breathtaking experience that challenges the conventions of modern shooters!
Post Date: 20:35 04-05-2015
Rating: 9
Author: LosmiK
Comment: Fast, fun, and unapologetically crass, this is the best game I've played in a long time, and is truly deserving of the moniker "role-playing shooter."
Post Date: 11:05 13-11-2014
Rating: 8
Author: arZ
Comment: Borderland is a combination from RPG and FPS game. The game is set on the planet Pandora and you need to search mysterious Alien Vault legend. You need to kill other different aliens with a lot of unique weapons. This game got a great graphic and sound effects and the gameplay is cool to. I rate this game with a note 8/10!
Post Date: 17:58 12-11-2014
Rating: 8
Author: Mihajlo
Comment: Borderlands is FPS game with RPG elements (character progression and loot drop). Borderlands takes place on the planet of Pandora, there are four classes available – Soldier, Berserker, Hunter and Siren. Each character can be tweaked through one of three skills trees. I rate this game 8/10
Post Date: 17:09 21-05-2014
Rating: 7
Author: bloga99
Comment: Very good shooting game,with nice graphics.
Post Date: 13:35 12-12-2012
Rating: 9
Author: Epine
Comment: Incredibly fun game for coop. It brings together RPG and FPS so well. Comes with great FPS action that's similar to TF2 with it's unique classes and cartoony yet gruesome graphics. Lots of weapons to loot from (I think this game actually won a Guinness World Record for the number of different guns in the game). Questing and following the story is also a big part of the game so RPG fans will be happy. Only wish it were longer but it does have 3 playthroughs.
Post Date: 00:52 30-11-2012
Rating: 8
Author: Mordekaiser
Comment: This game has very good graphics they are cartoon like and fun the game play is very good if you want to see videos then check nelsons video game play of it also there is a sequel so if you like this one play the sequel for sure there is no game that is like this anywhere so try it you will be happy
Post Date: 21:03 29-11-2012
Rating: 9
Author: PolanWalker
Comment: Extra game with comics graphics. I think we starts in some Post apocaliptic world where we must to fight for our live. We havent got anything besides one gun. We starts in base of abandits and here the game starts 😀 Great game play, super graphics and multiple choice of guns, shotguns, rifles, machine guns and many others just like rocket luncher 😀 I rate this game 9/10 😀
Post Date: 09:52 10-07-2012
Rating: 8
Author: Dmt_2000
Comment: This game is pretty cool if you are looking for a apocalypse game then you have a winner
Post Date: 12:46 06-07-2012
Rating: 9
Author: PolanWalker
Comment: Playing it for 6 mounts. Great shooter 😀 Like it very much. Was on 36 lvl when i stoped playing. Huge arsenal of weapons. Favorite weapon leworwer.

Comics graphic is the best idea i have seen 😀

I recommend everyone !!!
Post Date: 22:20 28-04-2012
Rating: 9
Author: Thedarkboy
Comment: The shooter genre needed this. Elements of role-playing games have been creeping in all over FPS games in the past few years, but in Borderlands it's a wholesale hybridisation. Not, I should point out, in terms of choices, story and consequences – that remains with the likes of S.T.A.L.K.E.R. – but with loot, levels, stats, skills and fiddling about in your inventory to max out your character. Gearbox says it's created a role-playing shooter, an RPS (which sounds strangely familiar to my ears), and that means you'll be playing a shooter that feels a lot like, well, like an MMO.
Post Date: 13:45 26-11-2011
Rating: 9
Author: Thedarkboy
Comment: Wonderful game! Graphics are great. Not much you can complain on in this game. 9/10 from me
Post Date: 03:05 26-11-2011
Rating: 9
Author: ilikegames12345
Comment: I Love this game, I have this for ps3 and its really fun. Theres also a lot of guns and power ups too! But there is one down side. The idea of the game is basicaly to kill people and get exp. Then move through the story line. For me that takes a long time and sometimes gets boring just killing people.
Post Date: 01:44 07-07-2011
Rating: 7
Author: buzzsaw
Comment: I would agree that Deus Ex is better than Borderlands. Borderlans has the diablo loot vibe but lacks in the shooter department.
Post Date: 09:29 19-02-2011
Rating: 9
Author: sasuke24
Comment: This is an amazing online FPS. I love the duel and the multiplayer system. Also the graphics is fantastic.
Post Date: 22:30 05-06-2010
Rating: 4
Author: TSamee
Comment: Fine, as an RPG, I'll give it massive props. Getting loot is ridiculously addictive, and there's enough content to keep you busy for days. But let's remember that we're voting for the best SHOOTER here, and that's the part the Borderlands doesn't get quite right.

Colision detection on snipers is dodgy at long range, even with the most accurate guns, and the game honestly feels too much like a Halo clone with iron-sights in terms of its shooting, with jumping around the enemy with a shotgun being the order of the day

While the sheer number of guns is awe-inspiring, the fact of the matter is that, after a while, all the different types feel the same. There're a handful of fairly generic weapon frames, and every gun (even the uniques) is put into one of these before having a whole load of variables changed, from its stock and optics to its elemental damage. It just feels too formulaic, and as a result you can't help but feel that, after firing maybe five guns of each type, that you've shot them all.

True, anything else that claims to be a true modern RPG-Shooter pales in comparison to Borderlands. I feel that Deus Ex was better, but it's too outdated (and no, this isn't nostalgia speaking; I played Deus Ex for the first time two weeks ago). But, frankly, there're better shooters than Borderlands (Team Fortress 2, Left 4 Dead 2, Modern Warfare 2, Bad Company 2), and there're better RPGs (Oblivion, Fallout 3, Dragon Age, Mass Effect, etc.), and that's why I don't think it deserves the top spot in either of the two categories. It's damn good at both of the things it tries to do. It's just nowhere near as good as the big boys in either league.
Post Date: 01:03 04-06-2010
Rating: 9
Author: awesomedrako
Comment: Borderlands is a really good game, and a really good shooter. Every other person here already knows that Borderlands is a great Fallout 3/Diablo-style looting RPG. But the shooter element is nicely done and implemented with the RPG element as well. You gradually get better, and more accurate guns as you progress. You start out thinking you're barely scratching your enemies, and end up taking out an entire group of them in a few shots.

The huge variety of guns certainly helps this. The elemental damage feels very satisfying, and it's even more satisfying to go through the levels, getting better and better, unlocking more guns and explosives and weapons, and thinking to yourself,"Man, I pwn now!". Enemies are wide and varied as well, which is what you would expect from such a massive game.

While this game doesn't have team-based FPS combat, the co-op combined with the massive amount of content makes this a very worthy FPS indeed.
Post Date: 04:57 15-04-2010
Rating: 8
Author: Webber
Comment: Borderlands is the Diablo of shooters! BL is always about trying to find the best loot. IMO the game mechanics suffer compare to other games like MW2.
Post Date: 18:57 07-03-2010
Rating: 7
Author: jared
Comment: I wouldnt say its the best online shooter ever I still prefer Cod but its good

Good graphics the gamplay is ok the beginning is terrible it is so boring 🙂 well i will give it a seven 🙂
Post Date: 17:36 23-11-2009
Rating: 10
Author: Astruil
Comment: borderlands its the best online shoter ever , i mean have lot of gunz , good graphics and its pretty cool in everything , also u can pick oponents stuff when u kill someone
Post Date: 21:33 30-10-2009
Rating: 10
Author: rorick777
Comment: played this game for the 360. its a really good game just wish the achievements were a little harder or there was more of them it only took me 1 sitting to beat it and 5 days to get all the achievements. i returned the game and in 30 mins it was checked out again cause i wanted to rent it again cause i did't have anything to do. lol
Post Date: 22:02 06-09-2009
Rating: 10
Author: notch
Comment: The graphics look awesome! The gam,eplay sounds awesome too. I bet it beats Huxley!