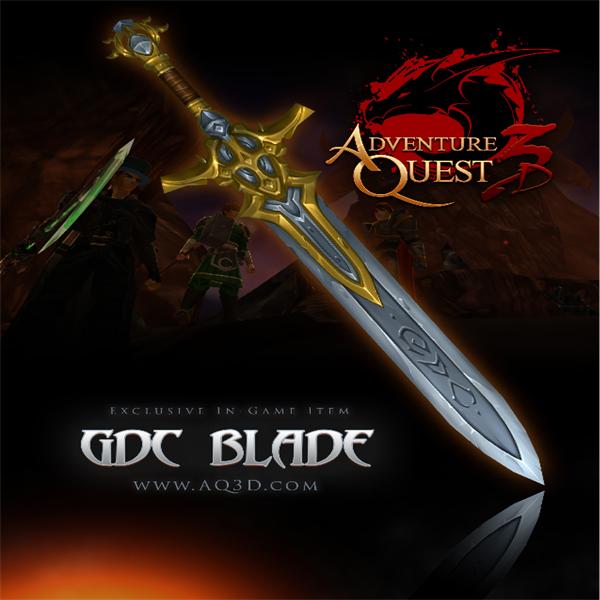 GameOgre.com started this giveaway last week on our forum at https://www.gameogre.com/forums/threads/aq3d-gdc-promo-code-giveaway.64760/ and the demand has far outweighed the supply. Code requests were piling up by the hundreds and multiple accounts were being used to in an attempt to thwart regular players from receiving a code at all.  However, we finally got it under control doing it our usual old school way by requiring a review about AQ3D.
We had to make a few adjustments such as pausing the other two AQ3D giveaways until this giveaway slowed down enough. We also have had to pause support for codes due to the extremely high numbers of players wanting this special sword/blade from GDC. Despite all of this, the upshot has been mostly a great community as many members have stayed as New Ogres and Ogre Regulars. Of course, there have been a few people who were not thrilled by not getting many codes or getting a code at all in cases where a clubbing (banning) was required. Nevertheless, the positive has far outweighed the negative.
For this Giveaway, we are going to skip the blog code requests, but you can still get one on the forum if you haven't got one yet. The way we give out codes is a little slow, but it makes it easier for more people to get a code. We once had a Marvel giveaway that was automated at first and we ran out of those codes under 5 hours. What usually happens is bots take over and gobble up most of the codes. Still we may be one of the few sites that does it the old way. It's not easy, but it opens up the giveaways for everybody to have a chance at it. The weird thing is that blog giveaways are even slower, but not near as effective as forum giveaways.