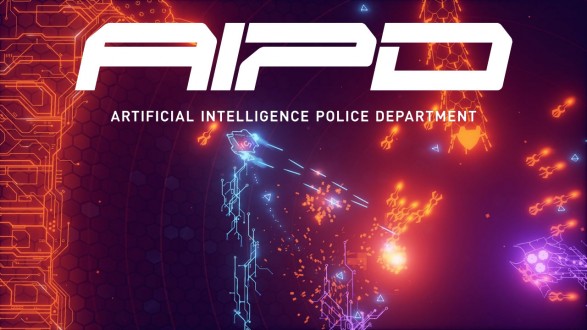 AIPD – Artificial Intelligence Police Department to be released in January 2016
Police work with an arcade feel for PC, PS4 and Xbox One.
Munich, January 11, 2016 – The developers from Blazing Badger and publisher mamor games will release the twin-stick arcade shooter AIPD – Artificial Intelligence Police Department on January 29, 2016, for PC (in stores and via digital platforms), PlayStation 4 and Xbox One. As part of the Artificial Intelligence Police Department, players hunt down AIs and come face to face with opponents that are constantly evolving.
In the twin-stick arcade shooter AIPD, players armed with a range of highly specialized weapons and equipment are on the virtual trail of criminal AIs, all in the visual style of TRON. Whether it's mighty howitzers or precise phasers, boost-modifications or reactive armor – the right equipment makes all the difference in the battle against enemies that acquire increasingly dangerous skills with each round. With a whole spectrum of options on offer when it comes to weapons and equipment selection, as well as the opportunity to influence the opponent's evolution, AIPD provides an individually customizable gaming experience.
It's all about unlocking new weapons and pieces of equipment, one after the other, and hunting down the high score – either on your own or in local co-op mode with up to four players at a time. Unlike the good old arcade classics, AIPD's timeless look is generated by the Unreal Engine 4 and impresses with its high speed graphics. It's an iconic 80's style with a high-gloss finish.
Features of AIPD at a glance:
● Thousands of possible combinations of enemy and arena permutations
● Flexible playing style with adjustable weapons and equipment
● Local co-op mode with up to four players
● Online leaderboards for even more competition
● Timeless neon style with the power of the Unreal Engine 4
AIPD – Artificial Intelligence Police Department will be released on January 29, 2016, as a digital version for PC, Xbox One and PS4 for € 9.99 / $ 9.99 / £ 6.99. There will also be a PC Special Edition available for € 14.99 that, in addition to the game, will also include a poster (A3) and a top-notch soundtrack (only available in Germany and the BENELUX).
About Morphicon
MORPHICON Media AG has expanded into the mobile, social and browser games sector. Under the mamor games label, a brand was created that deals specifically with the digital distribution of mobile, PC and console titles.
MORPHICON's next level strategy has been a tried-and-true formula for the company for many years. With the PC games Armed Assault, Arma 2, Arma 2: Operation Arrowhead and Arma 3, Peter Games published a string of four number one full price titles in 2006, 2009, 2010 and 2013.