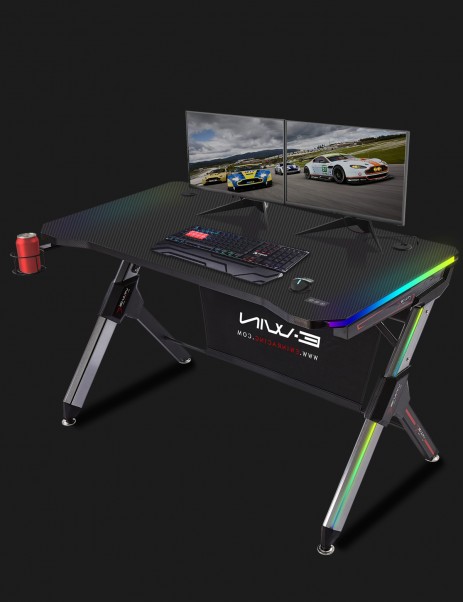 Introduction
When it comes to gaming desks, it is all about providing the optimum amount of space for our gaming rig. Of course, organizing our gaming accessories is also an essential aspect, so it is best to think things through when choosing the best gaming desk.
The more space and the easier it is to organize, the easier it is to locate our games and other accessories. Also, having some extra space here and there can let us customize our gaming desk with trinkets and other geeky stuff that we have lying around. 
Since gaming has now become a multimillion-dollar industry and has effectively transcended being a simple niche hobby and is now a mainstream entertainment medium that is consumed by the masses. However, choosing a gaming desk is not exactly as simple as it sounds. There are different sizes and designs to choose from, your max budget, and you will also need to consider your room space into the equation. 
With all that in mind, we have compiled a list of the top 3 best gaming desk for gamers. Each entry will focus on a specific customer group based on size, design, and budget. Well, then let us begin our list of the best gaming desk in the market today!
E-Win 2.0 Edition RGB Gaming Desk
Main Feature: Built-in RGB Lighting 
Dimensions: 48″ x 26.8″ x 30″
One of the core aesthetic features of a gaming desk is its stylish use of various LED lights. The E-Win 2.0 delivers this in spades with its visually striking and stylishly intoxicating design. If your gaming rig uses keyboards, mouse, CPU case with LED display, then the E-Win will compliment your gear perfectly. This is because the desk itself features built-in LED lights, as well.
If you prefer RGB gaming accessories, getting the E-Win 2.0 is pretty much a no-brainer. The E-Win 2.0 has two built-in thick strips of RGB lighting located over on both sides of the desk. The rippling barrage of color is simply hypnotic in a low-light room. 
Of course, since gaming sessions tend to last for a couple of hours, the E-Win 2.0 RGB Desk also incorporates a cup holder for our drinks. The whole surface of the desk also uses a non-reflective carbon-fiber material cover that allows the entire surface to be used as a mousepad.
What's most impressive with the E-Win 2.0 RGB is its overall construction. With the added RGB lighting, you would think that some level of durability needs to be sacrificed to accommodate the thick glowing strips. That is far from the case here. In term of strength, the E-Win 2.0 can hang with the best of them. 
Also, the RGB lighting can be customized to change at will or lock in place. I chose to lock the color to blue as that is the color scheme of my other RGB gaming accessories. Suffice to say; I am incredibly satisfied with the result. 
All in all, the E-Win 2.0 RGB Gaming Desk provides a dazzling psychedelic light show that will push your gaming rig's aesthetic qualities over the limit.
Eureka Ergonomic I1 Gaming Desk
Main Feature: Budget-friendly price tag.
Dimensions: 44.5″ x 24.2″ 30″
If you are looking for something more conservative and traditional in terms of design, we recommend you check out the incredibly sturdy and affordable Eureka Ergonomic I1 Gaming Desk. One of the key features of the Eureka I1 that we enjoyed include the cable management system tray which allows users to organize the wiring of their gaming rig to give it a considerably neater appearance and prevent cable tangling problems in the future. 
Gamers will also appreciate the carbon fiber covered tabletop, which means you can use the surface itself as a mousepad. The ergonomic design also adds to the desk's aesthetic flair with its angular edges. The low-price tag does mean it needed to take some liberties with the design, namely, the size. At 43.5-inches across diagonally, the Eureka Ergonomic I1 desk is relatively more compact than most gaming desks. This means you will need to be meticulous with the accessories you will be placed on the tabletop as the monitor and keyboard will be taking up a considerable portion of the surface from the get-go.
While the desk surface might be somewhat limited in regards to space, the whole desk makes the most out of this compact frame with its substantial weight limit. The Eureka I1 can support up to 150 lbs. Which means you can set up a dual monitor gaming rig. That weight capacity also means the desk can easily hold all manner of PC peripherals on its own. 
Some additional features in this gaming desk include a slot for your mobile device. The slot is big enough to support most tablet devices as and is located within your eyesight. This is a good position for a tablet or mobile device if you need to look up specific information regarding your game while you are playing.
Main Feature: L-shaped design that provides superb tabletop space. 
Dimensions: 66.25″ x 66.25″ x 29.5″
If you have relatively large floor space and a large PC monitor, an L-shaped desk might be the perfect option for you to use. If you have been around the gaming scene during the last couple of years, then you might already be familiar with the Respawn brand. Their gaming-centric furniture all provide reliability and functionality. The Respawn RSp-2010 also manages to continue the brand's trend with its impeccable construction and inclusion of desk features designed to keep things convenient for gamers. 
The Respawn RSP-2010 takes the practical L-shaped configuration which provides this desk with more than enough space for your entire PC rig. Keep in mind though that the monitor shelf only provides up to 39-inches of surface space, so it only has room for a single large-sized monitor.
The Respawn RSP-2010's design is definitely among its strong suit. The beveled front edge can offer more than adequate support for your arms, and the added headphone hanger and cupholder will help keep things tidy and organized as you focus on your gaming.