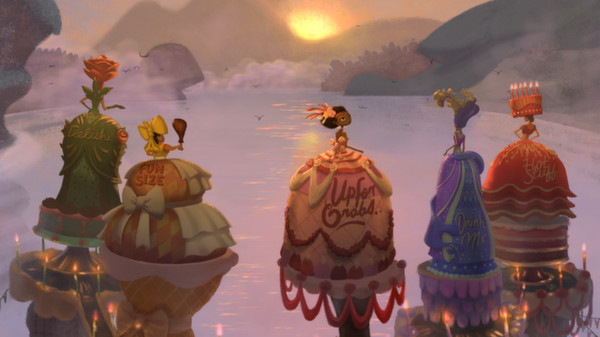 The first graphic adventure by Tim Schafer in sixteen years, Broken Age began two years ago in a historic, record-breaking Kickstarter campaign. Now it\'s here in all its beautiful, 2D, hand-painted glory, with an original orchestral soundtrack and an all-star vocal cast.
Post Date: 18:38 23-02-2015
Rating: 5
Author: StEvA
Comment: Boring game but graphics is good.
Post Date: 12:26 10-02-2015
Rating: 8
Author: axwellshm
Comment: Really cool puzzling game, I always loved to play these "thinkable" games in my life period, and i am kinda addicted to this games, i am not loking into graphics are gameplay I like them how they are. 8/10.
Post Date: 08:53 07-11-2014
Rating: 7
Author: arZ
Comment: Broken age is logic addicted game where you control two characters at the same time, a boy and a girl and you need to solve some puzzles. I like this game because its addicted. I rate it with 7/10
Post Date: 10:43 28-09-2014
Rating: 3
Author: brankomiljus20
Comment: In this game u control two players, girl and buy, with them u solve puzzles. Interaction with world is also good and u can chose different option with interaction so u have different path. I dont like this game, aint fun for me
Post Date: 19:58 15-05-2014
Rating: 5
Author: Frozen
Comment: well game graphics is good but it's kind of boring after some time
Post Date: 09:34 15-05-2014
Rating: 8
Author: nikiwild
Comment: So funny game, worth trying play it.
Post Date: 05:19 13-05-2014
Rating: 4
Author: Mordekaiser
Comment: its alright with awesome sounds and music nice graphics and fun gamplay but it gets kinda boring later on still a fun game though 4/10