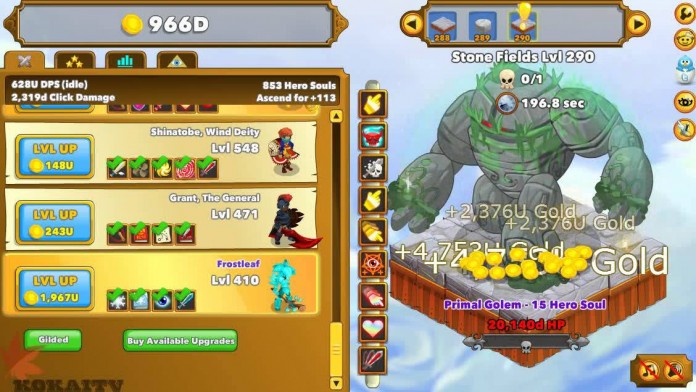 Clicking on monsters to kill them and get their gold. Then spend that gold on hiring new heroes and get more damage. Lastly, the more damage you deal, the more gold you will get!
Review Archive
Post Date: 21:18 11-08-2015
Rating: 5
Author: Septera
Comment: Simple game , the more you click the more gold you get and you use that gold to upgrade weapons.The more you play monsters become different and takes longer to kill.
Game is simple but get repetitive after some time.
Post Date: 17:08 24-07-2015
Rating: 8
Author: axwellshm
Comment: A part of clicking till you destroy your mouse button, to the part where you destroy more and more different monsters, this game has something that I like to say pretty easy, but interesting. Only bad thing is that I get bored of clicking, but this is a cool game to calm yourself and to kill some time 🙂
Post Date: 00:15 24-07-2015
Rating: 8
Author: SulzYee
Comment: Clicker Heroes, so funny game…
It seems like an clicker game that was on Facebook, click as fast as you can in given time. But this game is much more interesting, you have to kill monsters with clicks… More clikcs, more gold… This game has levels, what makes her more interesting, better level gives you harder monster, so you have to click more. But you can upgrade your clicks with gold which you make by clicking. Also, you can buy DPS (Demage per Second) helper and much more helpers too… Only one problem for this game is that you have to use your "Steam" for playing it, you have to download it. Becouse of that i give her 8, but i suggest this game to try it…