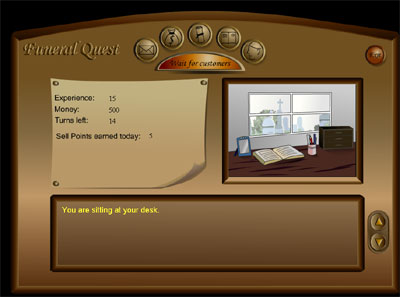 Funeral Quest is a web-based multiplayer game that simulates the world's second oldest profession – the Undertaker. You will face some mighty stiff competition however, because your adversaries will be some very alive human beings in this cutthroat game of capitalism.
Total Rating: 3.80
Reviews: 5
Review Archive
Post Date: 17:50 26-06-2015
Rating: 3
Author: axwellshm
Comment: Game is really boring.. Also, who the heck would like to play this game where you are guy who buries other. Bah.. 3/10.
Post Date: 16:45 01-12-2014
Rating: 3
Author: paksupro4
Comment: This is free multyplayer simulates of untertaker ( yea you read it good). I dont see why did someone make game with story like this . Graphic is nice, i love those pictures and i rate this game with 3/10
Post Date: 01:00 29-12-2012
Rating: 3
Author: Mordekaiser
Comment: This game is pretty bad not that fun i did not enjoy it graphics are bad i dont think anyone should try this game it is really bad but if you really want to then be my guest but i dont recamend
Post Date: 23:44 25-12-2011
Rating: 5
Author: Thedarkboy
Comment: This game is boooring. But pretty good to play if you are bored xD. But theres other time killing games that is better so I dont recommend this game
Post Date: 19:29 23-10-2006
Rating: 5
Author: Turtlefuzz
Comment: Its ok, not supper fun. A time waister though.
//