Contact GameOgre.com
If you need to contact Game Ogre to:
Advertise on the site.
Exchange links.
Submit an online game to be covered.
Submit a MMORPG review.
When submitting a MMORPG or Online RPG to be listed/covered by GameOgre.com, please include a description of the game and screenshots.
Email us at [email protected].
If you need to send Game Ogre a packet about your MMORPG, a demo, or even a full game, try our snail mail at:
GameOgre.com
6443 Val St
Groves, Texas (USA) 77619
If you want to add our link or banner to your site:
GameOgre.com - So Much Internet Game Info Its Scary!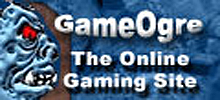 Privacy Policy
If you require any more information or have any questions about our privacy policy, please feel free to contact us by email at [email protected].

At www.gameogre.com, the privacy of our visitors is of extreme importance to us. This privacy policy document outlines the types of personal information is received and collected by www.gameogre.com and how it is used.
Emails:
We only collect the e-mail addresses of those who register for the Online Games Review Directory and our forum. The emails that we collect are not shared with other organizations for any purpose.
Log Files:
Like many other Web sites, www.gameogre.com makes use of log files. The information inside the log files includes internet protocol ( IP ) addresses, type of browser, Internet Service Provider ( ISP ), date/time stamp, referring/exit pages, and number of clicks to analyze trends, administer the site, track user's movement around the site, and gather demographic information. IP addresses, and other such information are not linked to any information that is personally identifiable.
DoubleClick DART Cookie:
Google, as a third party vendor, uses cookies to serve ads on our site.
Google's use of the DART cookie enables it to serve ads to users based on their visit to our site and other sites on the Internet.
Users may opt out of the use of the DART cookie by visiting the Google ad and content network privacy policy at the following URL - http://www.google.com/privacy_ads.html