MapleStory Reviews and Forum
Free MMORPG with 2D graphics that looks like a console platform game. There are four classes in the game: Warrior, Magician, Bowman, and Thief. Each class has it's own special themed city. Despite its cartoon-like graphics, Maple Story is on of the most popular free MMORPGs today.
Free MMORPG Rank by GameOgre: #6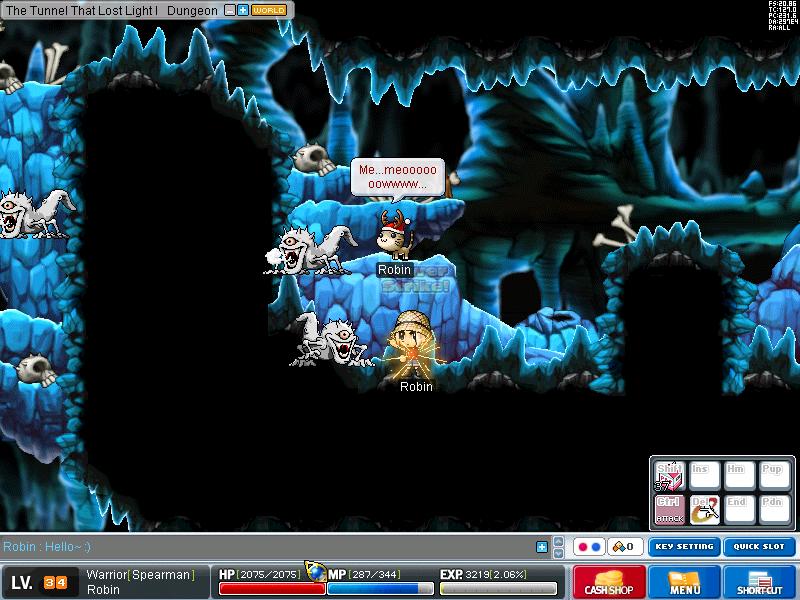 Select Reviews on MapleStory From GameOgre Review Members
Author: turtlefuzz
Rating: 9
Comment: First off, Maple Story surprised me a lot. This game has so much to offer like a HUGE community, hidden places, and every part of the world is free unlike game such as RuneScape. The game offers four classes: Warrior, Bowman (archer), Magician, and Thief. This game has no set time period, although it seems to be medieval at first. This game's graphics are ok but platforming element sets it apart from other MMORPGs, There are hovering chunks of ground in the air you jump on and move around on. It is odd, but it works great.
Pros:
Great combat system
Interesting and unique gameplay
Every major element (world and quests) included for free
Cash Shop where you can buy cool things.
Great Controls
Cons:
Bad graphics
Button Masher
Overall:
Maple Story will last you a long time. The controls are smooth and the gameplay is almost flawless. Try this game out. Any age group can enjoy it.
Author: LegendaryRPG
Rating: 10
Comment: This game is simply awesome. The gameplay is easy enough where young kids can play. I know this personally because I play with my cousin who is 9 years young. There are many things to keep your interest including but not limited to: GM events, quests, and exploring new or high level places (best done with a few friends).
The only problem I can see that makes this game annoying is that you will meet real jerks almost everyday. Since everything that involves human contact has this, it is not a real problem. Just ignore them and continue on with your life.
As for the leveling system, it does take a while in later levels but the levels in Maple Story are more valuable than most games. Going from needing 15 EXP to level up from 1 to 2, almost 2 million EXP to level up from 69 to 70, about 27 million EXP to level up from 119 to 120 and close to 2 billion EXP to level up from 199 to 200 can seem impossible and insane. It is really not that much. Once you reach the high levels (70+), you train in groups to make it much easier. A level 40 can earn 1 million EXP in 10-12 hours while someone at level 70 could earn 2 million EXP in even less time. It balances it out pretty well. I know this because I have played Maple Story for 3 months now. I have a level 89 Dragon Knight and I only play for 4-5 hours a day. My cousin has played for 3 weeks now and he has a level 46 Assassin.
The ones who complain about the leveling system are those who want to put no effort into something. They want to be a very high level person instantly without any work. These are the main jerks in Maple Story, just ignore them. The best way to develop an opinion about something is to do it yourself.
MapleStory Game Forum
Main forum for MapleStory on GameOgre.com. Forum members can create new threads, share tips, ask questions, and discuss various aspects of the game with other players.
MapleStory Trivia
MapleStory trivia questions asked by players on the forum.
Featured Online Game of the Week
Take a look at a MMORPG with cartoon-style graphics that is free to download and play, Maple Story.
Guild Wars Versus Maple Story
Two well-known free MMORPGs battle it out to determine the game that meets World of Warcraft in the finals. Find out which one prevailed based on gamer reviews.
Maple Story Versus Conquer Online
Two free MMORPGs with very colorful graphics face each other in a battle to determine which game moves on to the semi-finals.
Runescape Versus Maple Story
Two of the most popular and hated free MMORPGs go head-to-head in the closest battle of the first round.