RuneScape Reviews, Guides, and Forum
While most of the top MMORPGs today have eye-popping graphics, RuneScape caters instead to gamers on a budget who are looking for a MMORPG like EverQuest but do not want to pay a large subscription fee. You will not find great graphics (although graphics have been improved) in RuneScape but you will find a great deal of people to interact with in a fairly deep RPG for free. Those gamers who want to explore everything have to pay $5 a month which is still well below industry standards.
Below GameOgre has included our pick for the best RuneScape Review as well as a link to our RuneScape Review page where gamers just like you can discuss what they do and don't like about the game.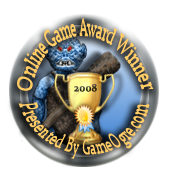 Free MMORPG Rank by GameOgre: #2
Select Review on RuneScape From GameOgre Review Member
Author: Dirge
Rating: 9
Comment:
CONCEPT: Basically whatever you want it to be.
RATING: Ages 7 and up due to alcohol reference.
ANIMATION: 6 of 10
GOOD SIDE: Amazing sound track, brilliant and huge world with a series of involving mysteries and quests.
BAD SIDE: dull battle system.
SOUND: 9 of 10
Now, when it comes to RPGs, I'm not easily impressed. But this game is next to perfect. It creates a good community for players of all ages. As for spells, this game offers over 55 different offensive, strategic and defensive spells and prayers. A feature very unique to this game is the fact that there are no definitive 'classes.' U simply start training at whatever u want, and fulfill your destiny, whatever it may be. In this game u can become: a swordsman, priest, swift fighter, thief, professional chef, archer, fisherman, ninja, axe man, barbarian, brawler, servant, mage, blacksmith, armor crafter, weapon crafter, tool smith, designer, farmer, merchant, traveling story teller, brewer, chemist, collector, mercenary, and god knows what else! Runescape features a limitless world, (most of which I wont spoil ;)) a huge variety of things to do, and much much more!!! I highly recommend u at least try it. (character animation is bad, however.)
Runescape Game Forum
Forum members can create new threads, share tips, ask questions, and discuss various aspects of the game with other players.
Runescape Insider Guides
Collection leveling, questing and item guides, suitable for players of all levels.
Runescape Trivia
Trivia asked by RuneScape players in the forum.
GameOgre.com's 2005 Online Game Awards
RuneScape wins best Free MMORPG of the Year.
RuneScape - Featured Online Game of the Month
GameOgre.com takes a closer look at one of the more popular Free MMORPGs.
GameOgre.com's 2004 Online Game Awards
RuneScape wins Best Free Online Game for 2004.
RuneScape Versus Maple Story 2
The first rematch in Showdown history provides plenty of fireworks as gamers usually love or hate both games with a passion.
RuneScape Wins Online Game of the Month for September
RS was voted as Online Game of the Month in GameOgre.com's forum.