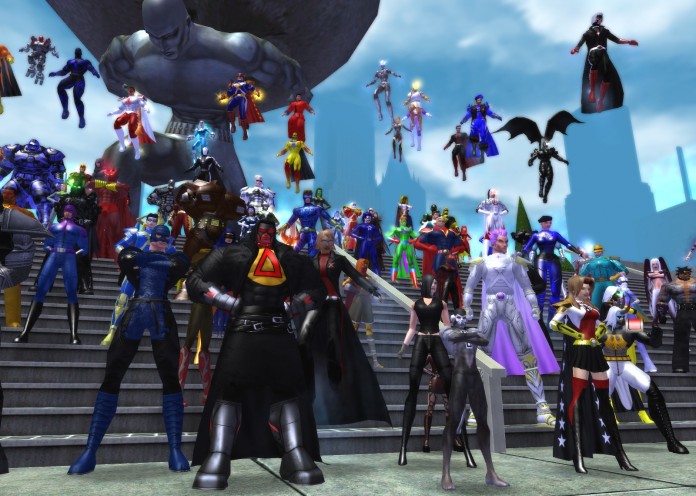 First round battle in the MMORPG Showdown series.
The Match-Up
While the previous match-ups consisted of two MMOs with something in common this one consists of complete opposites. Where as Final Fantasy XI focuses on providing a rich experience for players who enjoy grouping with other players and who have considerable playing time City of Heroes offers a simple gaming experience that players can easily be learned and enjoyed without always having to group with other players. In other words Final Fantasy XI goes after the hardcore players while City of Heroes appeals more to casual gamers.
Tale of the Tape
Final Fantasy XI
Targeted towards hardcore MMO gamers.

Extensive job system.

Hard to play solo at higher levels.

The MMO version of one of the most successful RPG series ever.

Can also be played on consoles.

Largely considered to be the second best fantasy MMO after WoW.

Was released in Japan before America.

Has had 3 expansion packs: Rise of the Zilart Chains of Promathia and Treasures of Aht Urhgan.
Versus
City of Heroes
The best character creation system of any MMO.

City of Villains expansion/sequel added playable bad guys and PvP.

Targeted towards casual MMO gamers.

Constantly adds new content via free updates.

Offers a companion comic book.

Can play City of Heroes or City of Villains without the other.
Select Comments For Final Fantasy XI (Edited for Presentation)
Rating: 3
Author: ichbod99
Comment: Very hard to play. Got bored with it.
Rating: 6
Author: Big Mo
Comment: Loved the RPG games but can't get into the MMO. Too hard to get into and has some stupid rules.
Rating: 2
Author: macattack
Comment: Forget about playing solo in this one. You need a group or you will get massacred by monsters constantly.
Select Comments for City of Heroes (Edited for Presentation)
Rating: 9
Author: WTFanobz!
Comment: Easy to get into hard to get out of!
Rating: 10
Author: macattack
Comment: Continues to get better and better with updates. I love making my heroes look uber.
Rating: 9
Author: Ichbod99
Comment: Very easy to install and just start playing after going through a great character creation system.
The Voting
Final Fantasy XI received a total score of 3.67
City of Heroes received a total score of 9.33
The Result
City of Heroes Wins!