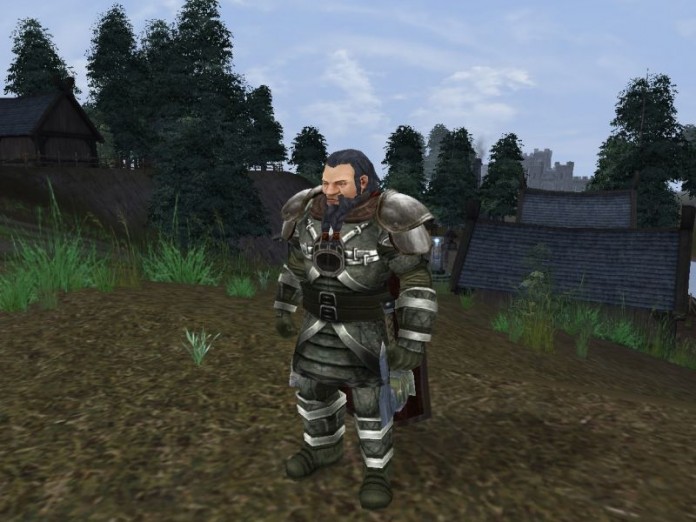 Final battle of the MMORPG Showdown 2 series.
The Match-Up
It all comes down to this. Lord of the Rings Online is the new kid on the block and the MMO that knocked World of Warcraft out of this tournament while Guild Wars returns to the finals after beating the aforementioned World of Warcraft last year. Lord of the Rings Online has quickly established itself as as a top fantasy MMO while Guild Wars continues to be hugely successful without charging a monthly fee. Both games will likely be among the best in the fantasy genre for years to come but only one can win this tournament and be named MMORPG of the Year for 2007. Without question this was the closest match that Guild Wars has been in yet. However there was not quite a New England Patriots – New York Giants type of ending that happened in the Super Bowl as Guild Wars remains undefeated. Voting was somewhat close for most of the week with Guild Wars in the lead but Lord of the Rings Online really cranked up the pressure in the final days of voting. In fact it looked like LotRO might actually win in the final day of voting but it was just not meant to be. Thus Guild Wars reclaims its crown as MMORPG champion. Guild Wars' dominance was tested in this match but it will be interesting to see which game if any can overcome Guild Wars' lethal combination of high-quality production millions of players and no monthly fees.
Tale of the Tape
Guild Wars
Free game play after buying the game.

Winner of the first MMORPG Showdown.

GameOgre.com's Online Game of the Year for 2006.

Primarily instanced content.

Two successful expansion/sequels.

Strong PvP focus.

Henchmen and Hero systems enables more solo play.

Level cap is 20.

Finally had a regular expansion and will have a sequel.
Versus
Lord of the Rings Online
Based on one of the best fantasy franchises ever.

One of the top fantasy MMORPG alternatives to World of Warcraft.

Strong focus on stories.

Targeted towards casual MMO gamers.

The game like the movie and books will end eventually.

Can acquire cool titles from doing various tasks.
Select Comments For Guild Wars (Edited for Presentation)
Rating: 9
Author: zekker3000
Comment: A fantastic MMORPG! This game is praised for its wonderful PvP amazing graphics nice large community with 4 million people lots of guilds to join and big PvP battles. if you are looking for a good FREE MMORPG check this one out. This game also has great musical scores and loads of different skills for each profession. Yes the level cap is 20 but that is for the casual gamer so there is no need to spend hours and hours just to hit lvl 10. Grinding can get very tedious but GUILD WARS keeps players far from it by offering easy leveling.
The main focus of GUILD WARS is to offer a unique experience to players while also providing great replay value. Other great things about the game include:
Mini pets are a nice treat for 1 year old characters.

A nice hero system. Heroes are like a little party add-on that everyone can get with the Nightfall campaign.

Lots and lots of rare and unique weapons staffs sheilds etc.

Lots of quest and a solid storyline for each campaign. Also has a great lore.
Overall- 9.5/10
Rating: 10
Author: Vandin
Comment: This is a really good game. It has a great storyline and its level cap is 20 so there is no grinding. It has great PvP and the combat system for PvE and PvP is based on skill not just clicking on the monster and watching your guy fight. You have to use your skills in the right order if you want to survive. Also the level cap of 20 eliminates any big difference in levels which makes it all about strategy. Oh yeah it is also FREE after you buy the game!!
Rating: 9
Author: miclee
Comment: There is no grinding for experience or anything because of the fact that there is a level limit of 20. Some people say that the level limit is bad but it helps the game a lot. I own all the expansions. It has great graphics and to play all you need to do is buy the box. Guild wars has no subscription fees. It is updated so often for even the smallest little bugs. Gameplay is just amazing whether its PvE or PvP. Another interesting thing in it is the death penalty. It basically shows that you get weaker the more you get hurt in an instance. Overall an amazing game with very few flaws and has a huge community. Final Score: 8.9/10
Select Comments for Lord of the Rings Online (Edited for Presentation)
Rating: 8
Author: miclee
Comment: Just great and true gameplay. The game has very few flaws and looks amazing on DX10 set to max graphics. Gameplay could be improved in some places like where you can't hit an enemy sometimes. Based on an original series this game is not a letdown at all. Portrays a great story through Middle-Earth and is exciting. When I first played it I was disappointed at the bad graphics because I forgot to set them to max. When I set the graphics to max I was just amazed and hooked on this game. Final score: 8.4/10
Rating: 10
Author: chopster
Comment: Although its not my favorite game I still like it better than World of Borecraft and Guild Warts combined. Yes LOTRO gets compared to Borecraft but its has a better story and not as much grinding. Being a big fan of of the movies and books doesn't hurt either.
Rating: 9
Author: jackin9
Comment: Great MMORPG. I love this game and for all MMORPG players try this! It brings a great storyline wonderful gameplay and fantastic music to 1 game! 2 thumbs up for Lord of the Rings Online!
The Voting
Guild Wars received a total score of 7
Lord of the Rings Online received a total score of 6.4
The Result
Guild Wars Wins!