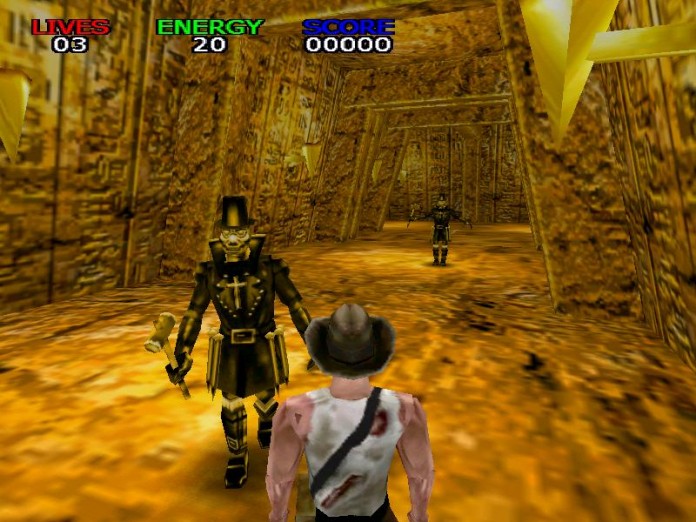 Golden Warriors is a 3D third person shooter game. Your goal is to collect as much gold as possible. However, in this game, the gold fights back. Use your arrow keys and mouse to navigate. Be sure to drink as much as possible to replinish your energy along the way. In order to finish the game, you must kill the mummy that protects the tomb.
Total Rating: 5.18
Reviews: 11
Review Archive
Post Date: 17:47 26-06-2015
Rating: 6
Author: axwellshm
Comment: Game is too old, but it's still gold xD
Kinda shooting some golden people is funny for me, dunno why. 6/10.
Post Date: 20:57 02-12-2014
Rating: 6
Author: paksupro4
Comment: This is free 3D TPS. Point is colecting gold. Your caracter is look like Indiana Jonse . Controle are simple ( arrow keys and mouse ) . Its old graphic and i rate this game with 6/10
Post Date: 20:05 22-06-2014
Rating: 6
Author: Aki013
Comment: Not bad shooter game but i don't like graphic.6/10
Post Date: 20:09 06-05-2014
Rating: 5
Author: SHiNEE1995
Comment: This is a very nice shooting games and much more fun just as I do not like the graphics
Post Date: 12:27 06-05-2014
Rating: 5
Author: nikiwild
Comment: Here we have a nice 3d shooter game, game is really old, and it had a lot of updates. Sound in this game i dont like very much, graphics too, as u see on the picture. You dont need a good pc for this, it can be played on any. The requires are really low. Gameplay is really simple, jsut do missions, nothing specific. I hope you enjoed this review.
Post Date: 10:14 06-05-2014
Rating: 4
Author: savicaa
Comment: This is really nice shooter game . This game was really bad on start , but then they put some really good things like 3D and some good things in game , but still it's not really good.This game is good for playing when you don't have a lot of time and you can't play long games , in this game you can make some fun , but i wouldn't reccomend this game to you , cause it's really bored for me.Graphics are really bad so 4/10 , gameplay is bad too so 4/10 , gameplay is little bit better so 6/10 , animations really bad so 3/10. For all game i will give 4/10.!
Cheers!
Post Date: 18:54 05-05-2014
Rating: 5
Author: Gavra10
Comment: Good game :d I like it :d
Post Date: 00:57 29-12-2012
Rating: 5
Author: Mordekaiser
Comment: This game is pretty fun graphics are bad but could be worse this game is worth checking out but i wouldn't make this my main game
Post Date: 13:54 08-01-2012
Rating: 5
Author: Thedarkboy
Comment: This game is OK. The graphics are not really bad but not the best either. I consider this game to be a time killing game. I only played it when I was bored.
Post Date: 01:37 27-01-2008
Rating: 8
Author: gypsy_red
Comment: This game took a bit of getting used to with the fast pace. I like the simplicity of navigating the hero who keeps you on your toes. Great game
Post Date: 03:03 09-05-2007
Rating: 2
Author: eastereggsrus
Comment: the way it looks is pathetic no offence but it does look bad the enemies and lives it"s not a game i would play