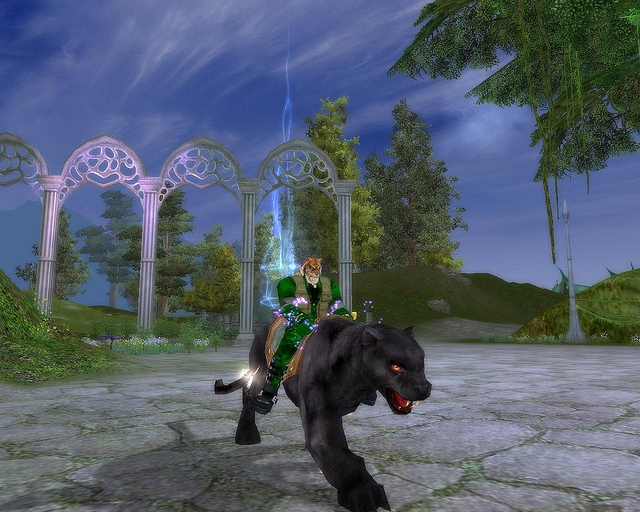 First round match in MMORPG Showdown 3.
The Match-Up
Perfect World vs. Silkroad Online is an interesting match-up between two free MMORPGs. While both are solid games they exude two completely different images. According to reviews and forum comments on GameOgre Perfect World has almost a squeaky clean image while Silkroad Online's image has been decimated with a variety of problems such as bots and lag. That image difference was all it took for the most lopsided match of the tournament this year. Perfect World took the lead on the first day of voting and never looked back. The forum discussion was also one-sided in favor of Perfect World.
This impressive performance by Perfect World begs the question whether it has a chance against Guild Wars or not. This question is made more interesting by the fact that Guild Wars has already defeated the other three MMORPGs that have made it to the second round thus far. Guild Wars beat Maple Story in the semi-finals of Showdown 1 World of Warcraft in the finals of Showdown 1 and Lord of the Rings Online in the finale of Showdown 2. Is Perfect World the game that will finally beat Guild Wars?
Tale of the Tape
Perfect World
Free to play.

GameOgre.com Reader's Choice for Online Game of the Year.

Different versions in different areas of the world.

Based on Chinese mythology.

The English-speaking International version was launched in the fall of 2008.

One of the best reviewed games on GameOgre.com.
Versus
Silkroad Online
Free to play.

Based on the famous Silkroad that connected Europe and China.

Can create a Chinese or European character.

PvP system that centers around the conflict between hunters traders and thieves.

Biggest criticism has been over the game's problem with bots.
Select Comments For Perfect World (Edited for Presentation)
Rating: 10
Author: awesomedrako
Comment: Perfect World is an absolutely perfect game. No boredom whatsoever due to the huge amount of quests being able to craft all your own items and being able to literally go anywhere in this game. You can run across the desert dive into the water then fly across the lake. The game has three races with each race having two classes. Human wizards humand warriors elven archers and elven priests can be both male and female but the untamed barbarians have to be male and the untamed venomancers have to be female. This game has everything that a good MMORPG should have. I think it has a good chance of coming in first this year. I think it should at least come in fourth.
Rating: 10
Author: muhaimenr
Comment: Perfect World is the best game and a lot better than Silkroad. Silkroad has way too many botters. Even though not perfect Perfect World has lots of quests almost no grinding and awesome gameplay. Perfect World all the way!
Rating: 10
Author: buzzsaw
Comment: PW has it all with great graphics great customization good gameplay territory wars events and awesome mounts.
Select Comments for Silkroad Online (Edited for Presentation)
Rating: 5
Author: eviran
Comment: SRO could be one of the best free MMOs but its ruined by its bad players. Take out the stupid bots and the game would not be so bad.
Rating: 6
Author: aaddron
Comment: Has potential but bugs bots and lack of support hurt this game.
Rating: 4
Author: awesomedrako
Comment: This game has many problems with bots etc. It could be a good game if it didn't have so many problems. I have even heard that the company doesn't do a thing to sort these things out.
The Voting
Perfect World received a total score of 9.25
Silkroad Online received a total score of 4
The Result
Perfect World Wins!