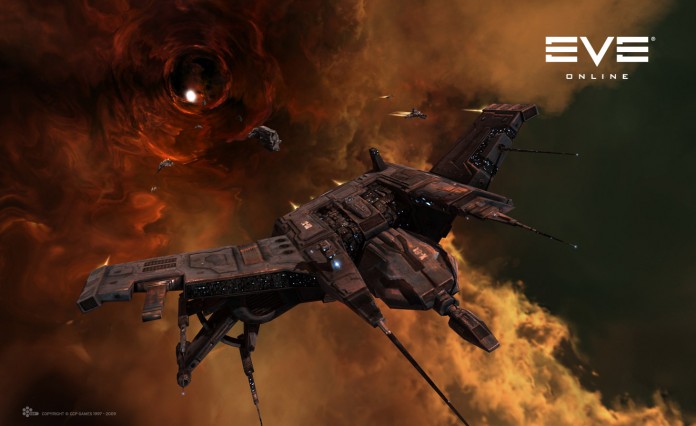 First round match in MMORPG Showdown 3.
The Match-Up
There have been close matches in the past but this match between Eve Online and Pirates of the Burning Sea actually ended in a tie! Voting for these two pay-to-play MMOs had been back and forth all week but the end result was still somewhat of a surprise. However these two games do have a good deal in common. For example both games feature their economy and PvP as major focal points. Both games also require more time to learn than most other MMORPGs. In the end Eve Online walked away with the win due to the tiebreaker vote. Eve Online moves deeper into the tournament once again. In both Showdown 1 and Showdown 2 Eve Online made it to the semi-finals before being eliminated.
Tale of the Tape
Pirates of the Burning Sea
One of the major pirate MMOs.

Offers a free trial.

Launched in 2008.

Player driven economy.

Large focus on PvP.

Characters captain their own ship.

Land and see combat.
Versus
Eve Online
Offers a 14 day free trial.

The best sci-fi MMORPG.

A major focus on PvP

Players have their own real life government.

Players control corporations.

GameOgre.com's 2006 and 2007 Non-Fantasy MMORPG of the Year.

One of the best economies in an MMO.
Select Comments For Pirates of the Burning Sea (Edited for Presentation)
Rating: 8
Author: buzzsaw
Comment: Lacks the personality of some of the free MMO pirate games but is more polished. I played the game at a friend's house and had a good time playing it.
Rating: 6
Author: eXoZmM
Comment: Don't like pirate games. A lot of people flocked to this game but I just don't see the potential in a Pirate MMO
Rating: 6
Author: MachoNacho
Comment: I had more fun in Puzzle Pirates than PotBS. This game still beats Eve.
Select Comments for Eve Online (Edited for Presentation)
Rating: 10
Author: Kunta Kinte
Comment: MMORPGs are meant to represent a virtual world where real life rules are present as far as possible. This makes Eve Online the best by far:
– Market rules are exactly the same as in real life.
– Risk/profit rules same.
– Time and money (ISK) management are so important. Same.
– Relationship with other players: Crucial as it should be.
And finally a great thing about time:
– You don't need to spend 15hours/day in order to become a pro.
– You don't need to make "fleetsaving" or anything like that. When you are offline no one can destroy you in any way.
Rating: 4
Author: buzzsaw
Comment: I tried the trial but for the life of me can't see why everybody thinks Eve is so great. It has a real life player council and everybody is on one server. So what? Neither one make it a game that I want to continue playing.
Rating: 6
Author: cholt
Comment: Good game if you like scifi MMOs. I played for a month before leaving. Good but not my thing.
The Voting
Pirates of the Burning Sea received a total score of 6.67
Eve Online received a total score of 6.67
The Result
Eve Online Wins Due to Tiebreaker!