RuneScape Versus Guild Wars
Final match of MMORPG Showdown 3.
The Match-Up
Of the three MMORPG Showdown finales that GameOgre has hosted, RuneScape vs Guild Wars proved to be the wildest match thus far by a large margin. Maybe it was the fact the Guild Wars was a two time winner and went into the match undefeated or it was because RuneScape had never won a Showdown match until this year. Either way, there were plenty of fireworks all week long. Scores other than 0 or 10 basically were thrown out the window as fans of both games went at it tooth and nail. Surprisingly, RuneScape lead for most of the week but voting was fairly close though out the entire week. Guild Wars gained the lead once or twice, but it was not for long. Voting in the Review Directory came to down the final 5 minutes which lead to the result of ....... a tie between RuneScape and Guild Wars! Yes, a tie in the final match. However, the tiebreaker poll in the forum discussion was not a tie so there is a winner. That winner is ...... RuneScape. Unlike the Review Directory, RuneScape lead by a large margin in the forum poll for most of the week. Thus, RuneScape managed to pull off the huge upset and hand Guild Wars its first loss. Thanks go out to both Review and Forum members for making MMORPG Showdown 3 the most exciting tournament yet.
Tale of the Tape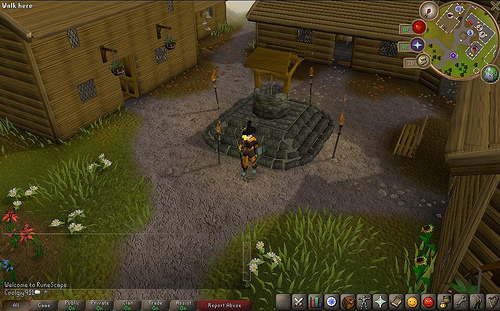 RuneScape
Free to play.
3D graphics.
Made in Java.
Offers a premium version.
Browser-based.
World's most popular free MMORPG.
GameOgre.com's Game of the Month for September.
GameOgre.com's 2004 Best Free Online Game and 2005 Best Free MMORPG.
Versus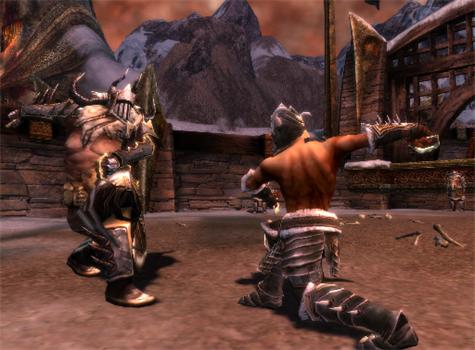 Guild Wars
Free to play after buying one of the campaigns.
One of the best reviewed games on GameOgre.com.
Winner of the first two MMORPG Showdowns.
GameOgre.com's Online Game of the Year for 2006.
Two successful expansion/sequels.
Strong PvP focus.
Henchmen and Hero systems enables more solo play.
Level cap is 20.
Has had one regular expansion and will have a sequel.
Select Comments For Runescape (Edited for Presentation)
Rating: 10
Author: clickmehere
Comment: Here is my full review of the game.

Gameplay 10/10
Sound Track 5/10
Player.vs. Player 9/10
Graphics 6/10
Community 7/10

Reason:
To get things started, the game is limitless and simple to level up. For gameplay, there are I think about 27 Skills to choose fro. All of these skills make at least some amount of money except for summoning and Firemaking. There is no specific class making the game even more fun. Basically, you can become the ultimate hero. There are over 345 different types of armor and 78 different wepons to choose from. The only place the game fails is its community. Most of the free-to-play worlds are crowded which means more lazy workers. Another horrible part of the community is the kids, Yes, most of Runescape's community is made up of teens and young kids. The sound track isn't as bad as it seems but its not interesting. Player vs. Player can be exciting because you know your going to get this cool item or your going to level up, but it can be boring when you just sit there and hit 0s.

Overall 10/10
Rating: 0
Author: zedaych1212
Comment: Horrible graphics and slow gameplay. The game has lots of stats but most are boring. Woodcutting is a good example. Not many games have woodcutting but is clicking on the same tree for hours fun? Also, RS has very boring combat. You just click and wait and hope that no one starts hitting 0s for 5 minutes!
Rating: 10
Author: dunleavy
Comment: Runescape is often criticized for it's immature community. However, I actually find Runescape's community to be one of the best I've ever seen. Once you've been playing for a bit and hang around higher levels or play on a members server, the immaturity quickly disappears. Plus, RS players are very outgoing and talkative, They are always willing to lend you a hand or at least say something to you, unlike the arrogant players in other MMOs.
Rating: 9
Author: komgred
Comment: Gameplay: There is a wide variety of skills to level up and, unlike most MMORPGs, you are not restricted to any one class. The downside is that the leveling process is a grind fest. I can't even remember how long it took to get to level 60 Woodcutting by chopping willow trees from level 36. The quests are very good since they are not your average kill 10 or collect 10 quests. It is a whole new type of gaming experience that actually requires thinking. Your character is also recognized in the quests, which is always a positive thing. 9/10

Graphics: For a game that is completely developed in Java, the graphics are really impressive. RS shows a high amount of detail, especially the HD setting for the game. The guys at Jagex did an excellent job. 10/10

Community: Improved a lot. Also, the community is huge. 7/10

Difficulty: Just right. New players will be able to remember what everything is used for due to the very helpful tutorial in the beginning. Quests are also simple to new players and get very challenging along the way. 8/10

Overall: 9/10
Rating: 8
Author: Dragon 1907
Comment: To be honest I like RS, but when they added the "trade limit" the game went downhill. They lost a lot of people. Also, the NPCs that are in the wild are dumb because I would rather fight a person.

Overall, RS is still a great game because of the fact that they have new and improved graphics, there are always new updates, there is always something to do, and most of the community is nice and talkative.
Rating: 10
Author: awesomedrako
Comment: Guild Wars beats it in my mind because it has a completely free section. On the other hand, Runescape has quests and mini-games to do that are more fun than the average kill X amount of X monster/creature/thing quests. RS has more puzzle quests, thinking quests, and exploring quests

Runescape also has one other advantage over Guild Wars: its much quicker to play. The reasons are that it has much lower specs, and its browser-based with Java while Guild Wars needs be bought and installed. In most other aspects, I think Guild Wars beats Runescape but I still want Runescape to win.
Select Comments for Guild Wars (Edited for Presentation)
Rating: 10
Author: verquist
Comment: While I'll admit Guild Wars can get boring fast and the level cap is low, it is still better than Runescape in every way. The level cap being 20 makes the game less grind heavy than Runescape. The game is also more skilled based, instead of point and die. Guild Wars has a story while Runescape's story is non-existent. Let me say that Runescape is by no means bad, but it just does not offer the same stuff that Guild Wars does. Even if I became a member of Runescape and played it as long as I played Guild Wars, I would be broke and bored.
Rating: 0
Author: voice of reason
Comment: Like the person said before me, GW is too focused on PvP. Also, at a level cap of only 20, there isn't much longevity to this game. I would have normally given this game a 6, but I'm going to go with a 0 just to balance things out with the Runescape haters.
Rating: 6
Author: awesomedrako
Comment: It's a pretty good game that beats Runescape in most areas. However, I want Runescape to win because it is completely free while Guild Wars is a retail game.
Rating: 10
Author: zedaych1212
Comment: Guild wars is a fun game that has plenty of PvP types to keep you happy, as well as a main story that is pretty cool. The game has a nice class balance uses the secondary class well to make the game a lot more fun. Furthermore, GW has some very nice graphics and great skill animations. The soundtrack is also quite nice. Great game!
Rating: 10
Author: buzzsaw
Comment: Guild Wars is a better game than Runescape. The only advantage that I can see Runescape might have is that it doesn't need to be bought first.
Rating: 9
Author: clickmehere
Comment: i didn't have a problem with this game, but Runescape is a cheap game that has a lot easier controls than most MMOs and is constantly updated. Games like WoW and Guild Wars just cant compare to Runescape strong hard working community. They always look for better and positive ways to improve the experience of the game than most other MMO Communities. Guild Wars is a great game, but I think Runescape beats it. Sorry, Guild Wars fans.
The Voting
RuneScape received a total score of 5.7
Guild Wars received a total score of 5.7
The Result
Runescape Wins Via Tiebreaker!