Tibia vs. Maple Story
First round match in MMORPG Showdown 3.
The Match-Up
This week pitted two free MMORPGs against each for the first time as Tibia took on Maple Story. Both of these games also have been criticized over the years for bad graphics, but both have also achieved success with loyal player bases. Maple Story has achieved so much success that it has attracted several clones such as Ghost Online and WindSlayer. Furthermore, Maple Story ranks among the largest free MMORPGs in the world. Despite the huge advantage in popularity and the forum discussion voting, the actual match was very close. In fact, Maple Story did not really pull ahead of Tibia until the final day of voting. Tibia continues to do extremely well for its age when you think about how many free MMORPGs are looking more like pay-to-play games these days. Still, Maple Story was just too much for Tibia in the latter's tournament debut.
This marks the third straight Showdown in a row where Maple Story has won in the first round. Maple Story was defeated in the semi-finals of the first Showdown by Guild Wars and was defeated by the Sword of the New World in the second round last year. Could a rematch with RuneScape be in the cards this year?
Tale of the Tape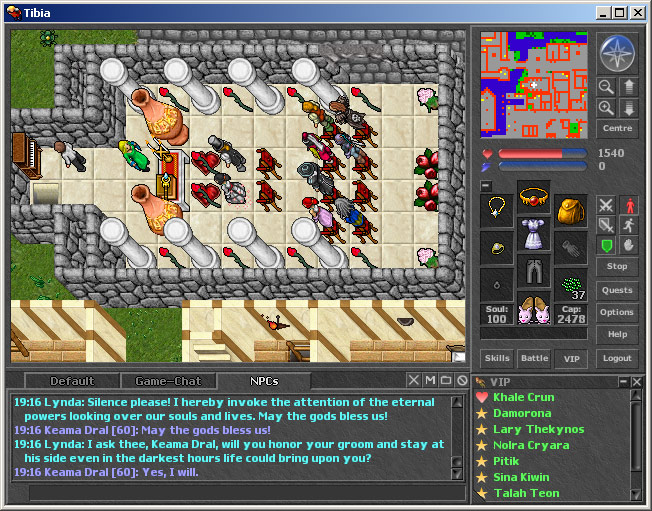 Tibia
One of the oldest MMORPGs, free or pay.
Could be considered as a graphical MUD.
Free to play, but players can pay a fee for a premium account.
Download is only 18 MB.
Can be played on Windows or Linux.
Most servers allow PvP.
Players can become Tutors to help with the game.
Versus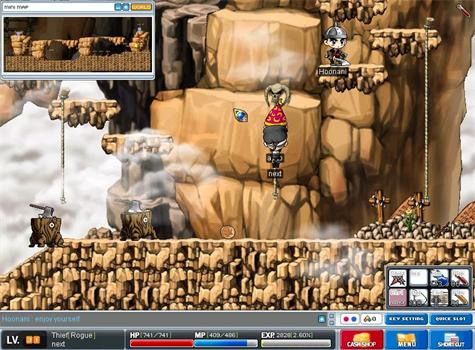 Maple Story
Free to play.
2D side scrolling platform game.
Players can marry each other after completing certain quests.
Various mini-games are available.
Different versions all over the world.
Large amount of grinding.
Offers a cash shop for special items.
Has attracted several clones.
Select Comments For Tibia (Edited for Presentation)
Rating: 10
Author: cmor
Comment: I prefer Tibia over Maple Story, but do not expect anything fancy. Tibia has a small download and is not much to look at. Basically, Tibia is a graphical MUD which has its advantages and disadvantages. For a game like this, I am still surprised at how many people still play it. For example, about 45,000 people are playing right now on a weekday.
Rating: 10
Author: buzzsaw
Comment: Old but still full of gold! I would rather play this than a game like Maple Story any day. Tibia might not look like much, but it is still a great game.
Rating: 0
Author: webber
Comment: I like old school, but this is too old school! The graphics look like an old Atari game. Graphics aside, my biggest beef with Tibia is when I played it or tried to. The very first quest was bugged and I could not go any further, because it would not let me. The guy tells me to go upstairs and I try to, but I get transported back with a message saying that I should talk to the guy first. I just talked to him! Who do you think told me to go there in the first place! What a waste of time!
Select Comments for Maple Story (Edited for Presentation)
Rating: 8
Author: lordnincompoop
Comment: It's very fu, and the graphics are cute, but it is pretty grindy. Also, the server disconnects me sometimes for 'mysterious reasons' as soon as I start it up. 8/10
Rating: 10
Author: sunny1
Comment: MS should win because its the best MMO! I love the gameplay and graphics. Maple Story is addictive! Don't take my word for it. Ever hear that imitation is the sincerest form of flattery? Look at MS clones like Ghost Online, Windslayer and Latale. They are good too, but they will never pass up Maple Story.
Rating: 10
Author: tottalyloco
Comment: Classic game that needs to be in the top 2! Maple Story is way better then Tibia.
The Voting
Tibia received a total score of 6.83
Maple Story received a total score of 7.8
The Result
Maple Story Wins!