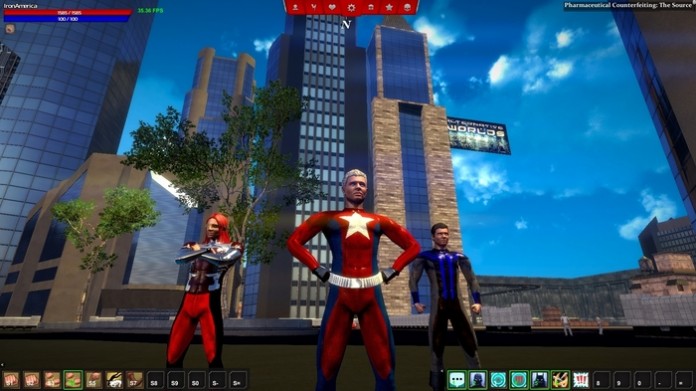 Support Your Local Super Heroes… and Villains Too!
February 18th, 2016 – SilverHelm Studios has launched its own crowdfunding campaign for Valiance Online on the game's new website athttp://valianceonline.com/donate
Phase 1 of the campaign seeks funding to cover some of the game's basic costs, such as server costs and paying staff to work full-time, upgrades to the character creator, implementation of the first set of story missions, a livestream sneak peek at the Commander pet class, development of character attributes specifically for roleplaying purposes, and more!
For more detailed information, check out our Donations page which details rewards available for our supporters as well as our progress towards our later campaign phases.
Through volunteer work alone, the Valiance Online team has already greatly progressed in development including a playable environment, basic character creation and customization, combat system, several power sets, and a variety of missions. SilverHelm Studios is working towards being able to pay developers for their efforts on the game so the entire team can commit full-time to creating the city of San Cielo.
Development of the pre-alpha of Valiance Online continues with the goal of moving to alpha and making the game available on Steam.
Recent updates to the game include:
●        Optimizations to asset streaming and physics systems
●        Improvements to mob (NPC) intelligence and their power sets
●        Revamp of the combat experience including new damage types, better enhancement calculation, more balanced spawns and damage, and more
●        Updates to what enhancements vendors have available
●        Power enhancements separated into respective classifications:
○        Red (Offensive)
○        Blue (Defensive)
○        Yellow (Utility)
○        Purple (Special)
●        Fixes to many of the power sets currently available and to the draw/holster animation
●        All missions are available and their waypoints properly aligned
●        Improved particle system
●        More buildings added, including:
○        San Cielo Police Department HQ
○        NameSake Media / NameSake Radio HQ
○        San Cielo Medical Center
○        Orion Laboratories
●        Updated water shader
●        Updated movement and combat animations
●        Updates to the character generator
Upcoming patches will overhaul and expand the character creation system and existing power sets.
Valiance Online is a "living world" superhero massively multiplayer online game which player choices and actions are paramount. Set at the end of the 21st Century in the fictional city of San Cielo, players take on the roles of heroes and villains who battle using superhuman powers and advanced technology. More information about the game is available at http://valianceonline.com