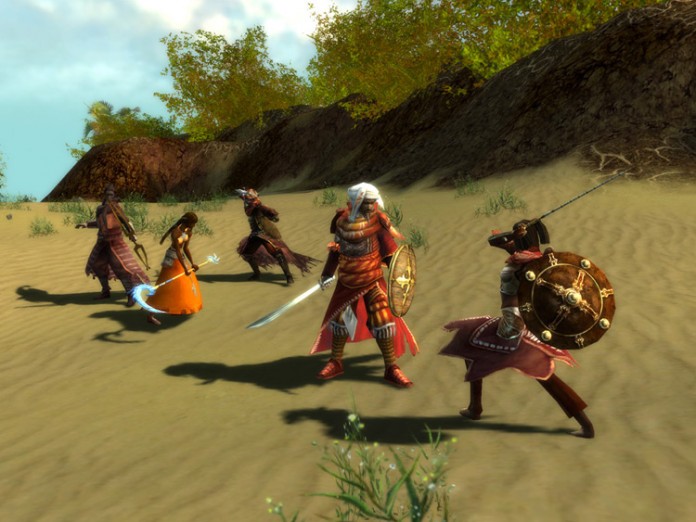 By Chris Connor – Editor-in-Chief of GameOgre.com
Final battle of the MMORPG Showdown series.
The Match-Up
Without question you could not ask for a better final match-up than World of Warcraft versus Guild Wars. The king of pay-to-play MMORPGs (ranked #1 in GameOgre.com's list of p2p MMOs) against the king of Free MMORPGs (ranked #1 in GameOgre.com's list of p2p MMOs). Both games have millions of players and continue to grow with eagerly-awaited content expansions. Guild Wars has a chapter system that continues to improve with each new chapter and World of Warcraft is finally releasing an expansion after 2 years. In other words both games are on fire with no signs of slowing down. That said the only other match-up that would have been close to being as interesting would have been World of Warcraft versus RuneScape but RuneScape was upset in the first round by Maple Story.
Despite the match being close on paper the actual voting was not. Guild Wars took an early lead due largely to not offering a monthly fee and never looked back. However it should be noted that the one time fee for paying for the game versus paying for the game and a monthly subscription was not only reason the Guild Wars defeated World of Warcraft. Just any Free MMO was not going to beat WoW because not all Free MMORPGs are worth even playing. Actually Guild Wars could be considered as the WoW of the Free MMORPG due to its incredibly high production values and increasing popularity. Fittingly Guild Wars will now take World of Warcraft's place as Best MMORPG of the Year.
Tale of the Tape
World of Warcraft
The world's most popular MMORPG.

Awaiting its first expansion The Burning Crusade.

Each major update reworks a class based on a class review by Blizzard.

PvP has been revamped with the latest patch to accommodate casual players better.

Raid content continues to grow.

Auction houses simplify character trading.
Versus
Guild Wars
Free game play after buying the game.

Primarily instanced content.

Two successful expansion/sequels.

Over 3 million players.

Strong PvP focus.

Henchmen and Hero systems enables more solo play.

Level cap is 20.
Select Comments For World of Warcraft (Edited for Presentation)
Rating: 10
Author: a_regular_guy
Comment: One of the greatest games ever. You do not have to grind experience that much to get a level and gold is easy to get. The community is great and there are a lot of things to do. There are so many raid places quests and instances that it's hard not to like this game.
Rating: 0
Author: gbwong
Comment: Costs so much. The game itself is so expensive but the monthly fee is just outrageous! It might be good but it is not worth it. If you play this game for 1 year you could probably buy 6 new games.
Rating: 10
Author: bloodwry
Comment: This game can be taken to relax and have a casual game. In addition it can be a hardcore game for the hardcore gamers. I play have 2 level 60 characters and I don't plan on stopping. If you can't come up with 15$ a month I feel sorry for you. Best game overall that I have ever seen.
Rating: 0
Author: mmorpg-man
Comment: Too expensive. The level cap is level 60 only? Many of my friends have played this and got dissapointed. You character looks the same as everyone else and it's so easy to level that the challenge is just gone. If I had a choice between GW or WoW I would choose GW.
Select Comments for Guild Wars (Edited for Presentation)
Rating: 10
Author: SweatyPyro
Comment: Great game with a PvP focus. I don't get how people get bored of it so easily. Sure a lvl 20 limit is bad but Im still stuffed with quests after a week and the game is still great. Some people should finish it before judging it.
Rating: 8
Author: Tiraldric
Comment: A nice game that is graphically stunning and definitely worth the one time purchase. On the downside the game gets boring really fast but I still far prefer it to WoW since WoW might as well have ruined Warcraft.
Rating: 10
Author: Charger XD
Comment: In my opinion this is probably the best MMORPG ever. It is much cheaper than WoW even if you buy the chapters/expansions every 6 months. The missions are really fun and the graphics are wicked. If you ever get rejected from a group just use henchmen/heroes for PvE. PvP is also really fun and you can PvP straight ahead if you want to. The lvl cap (20) is there for a reason. ArenaNet knows what they are doing. This game requires more skill than time spent.
Rating: 10
Author: Miclee
Comment: Great game! I have all the expansions. A good thing is that the max level is 20 so players don't focus on power-leveling. The graphics are better than WoW and it has no monthly fees. You can go with a PvE character or just focus on PvP. PvP is my favorite part of this game because it is always different.
Rating: 10
Author: sammy555
Comment: Best option for an MMO ever.
1. Price: Right now the original GW is 40 dollars and there are no monthly fees. With a purchase of that GW from the game client you get a discount on your next purchase for the next campaign Factions or Nightfall.
2. PvE: Not repetitive and the quest system isn't just about killing. The cut scenes are nice and the game's graphics are beautiful.
3. PvP: The best part of Guild Wars! You can access it with your PvE character or just make a character for PvP. Lots of strategy great fun and everyone is nice. Alliance Battles are like huge wars pitting you against other nations. GvG is almost the same thing. Random arenas lead you to Team Arenas and Team Arenas lead you to my other favorite part of PvP: Heroes Ascent. Make a team with your guildmates or just start one up. Make sure to be strategic and you might end up in the granddaddy of them all the Hall of Heroes!
4. Lore: The game gives itself a huge background which acts as the catalyst for many great events like Wintersday the day of the Tengu or the great Halloween event!
5. Level Cap: Lots of people don't like the level cap of 20 but that is just designed for the players new to MMO's and those who like using skill rather than wasting their lives on a game. What I love about GW is that it can be casual or hardcore unlike other games where your parents have to drag u off the screen.
The Voting
World of Warcraft received a total score of 3.57
Guild Wars received a total score of 6.46
The Result
Guild Wars Wins!