World of Warcraft vs. Warhammer Online
First round match in MMORPG Showdown 3.
The Match-Up
Whenever a highly-anticipated MMORPG is launched, it will inevitably draw comparisons to World Of Warcraft and be labeled as a possible WoW killer. With over 11 million subscribers, it is hard for WoW to not have a huge bulls eye painted on its chest. Warhammer Online is the latest game to be labeled as a potential WoW killer. Why not? WAR boasts one of the best PvP systems yet, is based on a popular fantasy franchise, and offers several innovations (public quests, achievements, open grouping) that will likely be copied numerous times over the next few years. Furthermore, players in WAR can experience PvP as early as level one while other games, including WoW, require you to grind to reach a certain level before entering PvP. However, all of that was not enough for Warhammer to overcome World of Warcraft as WoW narrowly won in the final day of voting. Long term player loyalty and the upcoming Wrath of the Lich King expansion win over innovation this time, but do not be surprised if Warhammer Online goes further in the tournament next year.
Tale of the Tape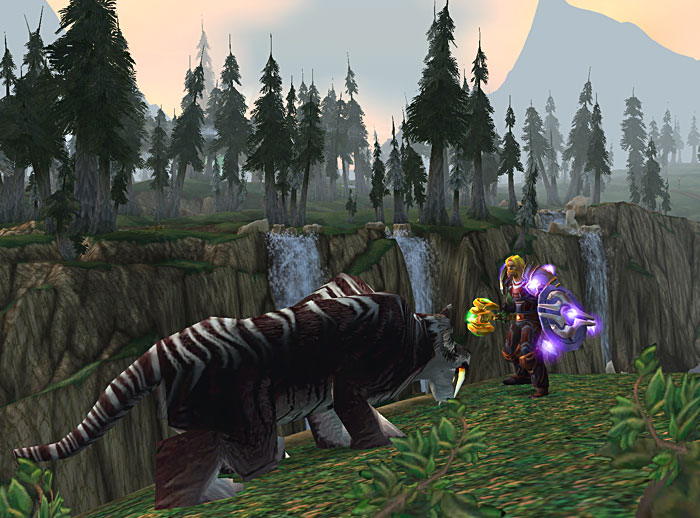 World of Warcraft
Still the world's most popular MMORPG with over 11 million subscribers.
Had an extremely successful expansion with the Burning Crusade.
Second expansion, Wrath of the Lich King, looks to be a huge hit as well.
GameOgre.com's 2004, 2005, and 2007 Online Game of the Year.
Constant updates and patches have made it into one of the best made MMORPGs yet.
Versus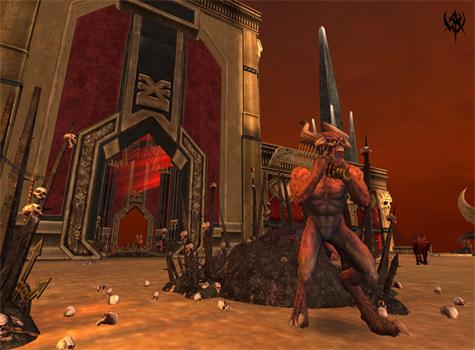 Warhammer Online
Voted as GameOgre's Game of the Month for October.
Realm vs. Realm PvP by the makers of Dark Age of Camelot.
Introduced Public Quests.
Open grouping allows for groups to form quick and easily.
Weaves PvP around PvE better than any other MMORPG to date.
Enables players to experience PvP as early as level one.
Select Comments For World of Warcraft (Edited for Presentation)
Rating: 10
Author: fun828
Comment: Been playing this game for a long time, and love it. They are always making new patches. The new one had a new profession, the Glyph system and spells for all classes. They are coming out with a new expansion soon that will have new lands and a new class. Wow has a great community. If you find a good guild, its even better.
Rating: 10
Author: Sanpicture1991
Comment: I've played this game for 2 years now and I'm still fully enjoying it. I'm a casual players and I think WoW caters very good towards players like me. There are lots of quests in this game. True, some of them are a bit repetitive, but there are also several interesting quests with immersive background stories. With Wrath of the Lich King coming, there will be more diverse quests like saving prisoners from a camp and sailing a pirate ship. The World of Warcraft is also regularly updated, be it an event, a new zone, new quests or even a new profession. The community is good, but there are some really immature young kids playing this game. However, you can avoid them. I've recently started raiding with my guild, and I must say it adds a whole new dimension to WoW. I've never raided before and I find it quite awesome! I can go on for a while listing all the good points of this game, but I'll just end with saying that it is an awesome game which I'll be playing for many years to come!
Rating: 10
Author: pmaghami
Comment: WoW is a good game. It has everything you need packed into one game. However, the PvP is kind of bad. I like most of the classes in WoW, but some of them lack fun (shaman, paladins). Shamans only have a few offensive spells and paladins only have one if you are in the right build. All in all, this game has gotten a high population (11 million) meaning it is a successful game. The only improvement I can think of is that it needs more balance in PvP.
Rating: 10
Author: chacto
Comment: WoW is a good game although I haven't played it all along. I did get in beta for Rash of the Itch King, but I don't think the expansion will renew it. As far as comparing it to WAR, here are my thoughts. The flights in WoW are very scenic and cool while in WAR there is a stupid video that delays the load. PvP is different in both and, honestly, I don't see either being better than the other. WoW utilizes efficient programming and uses low resources so a lot of people can play while War uses the CPU too much and is a resource hog. As far as incentive to group, there is less than Wow since you can do PQ's. As far as the community in WAR, all they do is talk about WoW. Just because your tired of a game doesn't make the next one better.
Select Comments for Warhammer Online (Edited for Presentation)
Rating: 10
Author: awesomedrako
Comment: Wow has been at top for too long. It is time for WoW to step down for a new game.
Rating: 2
Author: chacto
Comment: War is buggy, at retail release it wasn't as polished as Rash of the Itch King was in beta, Most votes for WAR are by burnt out WoW players. The best part about War is the Public Quest system but I am sure everyone will include PQs in their next expansions. I would love to have the 50 bucks back that I spent on WAR. WAR is a good idea, but has a poor implementation.
Rating: 10
Author: buzzsaw
Comment: The best MMORPG right now! WoW has fallen back. They dropped the ball on PvP while Warhammer Online is running with it for a touchdown!
Rating: 8
Author: webber
Comment: Nice ideas like achievements, public quests, open grouping etc. Solid game but I have to give the nod to WoW, because World of Warcraft can just use some of WAR's ideas to improve and get even better.
The Voting
World of Warcraft received a total score of 8.31
Warhammer Online received a total score of 7.4
The Result
World of Warcraft Wins!