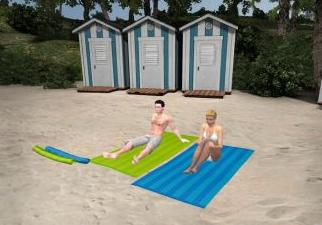 3DChat is a virtual world game and social network created for adults. The 3DChat Game is an exciting and entertaining multiplayer environment that has a real world setting. Think Second Life, but with more game playing elements. Our 3D world has already released bars, clubs, movie theaters to name just a few. You can relax in your penthouse with the ocean view, walk the streets of the Old City, or get-your-groove-on in one of the nightclubs. You'll also have the option of purchasing real-world items in our virtual mall where our sponsors advertise their products. 3DChat offers a place for adults to socialize in cyberspace, much like they would in real life.
Post Date: 22:29 20-09-2014
Rating: 8
Author: brankomiljus20
Comment: Not bad game if u like social type of games. U create ur avatar then live ur life, u can create lots of custom things, like yacht, house or your look. Also u can go into bars, drink dance or even go to beach and swim
Post Date: 20:40 16-06-2014
Rating: 8
Author: htsUNL1MITED
Comment: Really not bad game at all 🙂
Post Date: 17:54 15-06-2014
Rating: 9
Author: 420Hairlyman
Comment: Really nice social network based game. It works something like facebook but on virtual level. You create your character and enter the online world where you can do anything you want from dating to sitting in your virtual home and playing games. Its really nice and I recommend for everyone at least to try it out!
Post Date: 17:45 06-06-2014
Rating: 10
Author: Aki013
Comment: I like this game.This game is like real world,so it can be very fun.Graphic are great too. 10/10
Post Date: 16:56 22-03-2014
Rating: 8
Author: savicaa
Comment: I dont know , for me this is on the same way like Sims?
But i think with some changes this game can bee really good:)
Cheers!
Post Date: 05:47 15-02-2014
Rating: 8
Author: keller07
Comment: it is really a funny game and i like it. This game mostly can be played during free hours so that you will not get bored. Great game and rated it 8/10
Post Date: 12:07 11-12-2011
Rating: 8
Author: Thedarkboy
Comment: This game can actually be fun. It's a 3D game. Didn't really play it for a long time though. 8/10 from me
Post Date: 19:47 08-12-2011
Rating: 10
Author: timmygamerz
Comment: im hooked. played other mmos for yrs n this one takes the graphics by the ass big time. great game
Post Date: 17:15 13-05-2011
Rating: 7
Author: Joker
Comment: I would rather play living avatars on GO! Second Life is not what it used to be.
Post Date: 05:23 20-04-2011
Rating: 8
Author: sasuke24
Comment: This is a nice game to play. The 3D effect of this game is just wonderful. But hey….. this is not a child game like me :p
Still played it once. 🙂