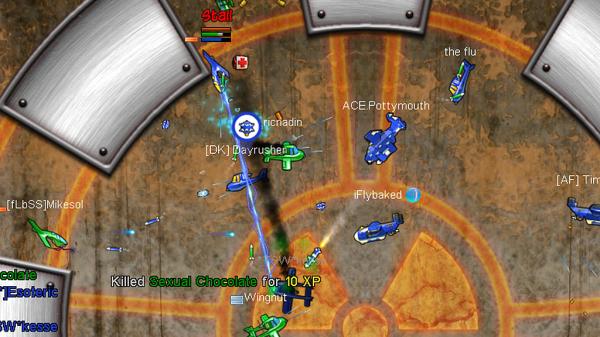 Blast your way across the cartoon skies in this fast-paced game of aerial combat. Nimbly Games has crafted an instantly accessible, rewardingly deep, and ravishingly fun multiplayer action game. The sirens have sounded, bogies are coming in hot… Jump into the fast and agile Loopy and drop your enemies from the sky with a tactical EMP…
Post Date: 13:28 01-08-2015
Rating: 7
Author: axwellshm
Comment: Game is indeed fun. Aerial game was good, but this is for lower generation of kids since it is based to be cartoon game. I like more action but I like this game as well.
Post Date: 11:14 04-11-2014
Rating: 6
Author: arZ
Comment: Altitude is a free to play steam game. Its a funny game where you control a plane where you need to destroy the enemy planes to win the air battle. Its a multiplayer game that means you can play with your friends to. Cool game i rate it with 6/10
Post Date: 10:34 28-09-2014
Rating: 6
Author: brankomiljus20
Comment: This 2d flight game, u control plain, avoid obstacles and shoot other plains. U have 2 types of weapon primary and secondary. U can collect power ups do help u your goal. Graph is not good but fun is
Post Date: 09:39 26-08-2014
Rating: 4
Author: Ckalja99
Comment: I didn't like this gme when i saw trailer on youtube. First it costs too much and second graphics aren't that good . Gameplay is bad and so from me a bad 4 .
Post Date: 06:09 05-08-2014
Rating: 4
Author: ivekvv256
Comment: This is not really a game that is good for me, and I didn't enjoy playing it. While fighting it does got some cool moments, and when you destroy some airplane, it feels good. But in general I haven't had much fun with that game. I'll rate it 4/10.
Post Date: 10:00 17-07-2014
Rating: 6
Author: Madara98
Comment: DONT BAD GAME
Post Date: 22:49 17-05-2014
Rating: 5
Author: Mordekaiser
Comment: cool physics type game with alot of management 5/10
Post Date: 17:03 13-04-2014
Rating: 8
Author: nikiwild
Comment: This is a relly interesting game, its a bit old but u still can have fun.
This game mode is similar to normal deathmatch, with the exception that players will not respawn until the round is completed. Its objective is to be the last plane left alive. There is also a round time limit.
The one life tbd mode is similar to the normal tbd type, but with one life per round. The one life game types are all round battle. Altitude, a 2D side-scrolling airplane shooter game created by Erik Measure and Karl Sabo, the founders of Nimbly Games. The best multiplayer 2D aerial combat game on the internet, Altitude is a fierce contest of ace vs ace, battling for supremacy of the skies in a fast paced combat that is way more fun than a flight simulator. It is a game of steely nerves, hair-trigger reflexes and brilliant tactical thinking. With five unique planes to choose from and an online community that will provide you with hours of entertainment, the game will stretch you to the limit from the upper reaches of the stratosphere and the relics of a long forgotten city, to within the deepest hollows of underground caverns. The sirens have sounded, bogies are coming in hot… jump into the fast and agile Loopy and drop your enemies from the sky with a tactical EMP blast – but get out of the way before your Biplane support tears them to pieces with 20mm cannons blazing! Barrel roll through the enemy minefield and arm your nuke as you enter the drop zone. There it is – the enemy base – but two Mirandas just warped in with lasers hot, and an Explodet is lumbering into position over its hangar deck.
Post Date: 16:07 08-04-2014
Rating: 10
Author: pisoj13
Comment: I love this game.You can easily spend a lot of time on it and it is addictive.
Post Date: 10:20 19-02-2013
Rating: 3
Author: akshaj
Comment: nice game i like it very much!!! its funnnnnnnnnn too much!!!! but still couldve been better