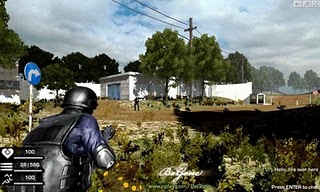 BeGone is an online multi-player first person shooter game with a modern and realistic theme. Each team tries to eliminate the opposing team before time runs out. Advanced graphic shaders, dynamic character locomotion and optimized networking code create an intense gameplay experience that is quickly accessible from a browser with no signup required. Made with Unity 3d. Compete against your friends in this immersive FPS.
Post Date: 23:41 14-11-2014
Rating: 6
Author: Mihajlo
Comment: BeGone is browser based multiplayer FPS game. BeGone features 6 different maps (Courtyard, Crane, Pipeline, Tower, Timbertown and Warehouse) and 3 game modes (Control Point, Elimination and Sabotage). I rate this game 6/10
Post Date: 00:25 16-02-2013
Rating: 8
Author: Mordekaiser
Comment: This game is great gameplay is awesome graphics are great dont know what dark is talking about but ya there are alot of weapons to choose form its like counter strike buy system you kill you win u get more GP which u can buy grenades and more guns i rate this game a 8/10 for being a very good browser game
Post Date: 13:55 04-12-2011
Rating: 5
Author: Thedarkboy
Comment: This game is OK. The gameplay isn't very funny. The graphics sucks as you can see. They gotta improve it. 5/10.
Post Date: 09:11 14-06-2011
Rating: 4
Author: Steelcraft
Comment: This game seems ok at the start but when u get more involved gameplay sucks, and then u have the bad graphics!