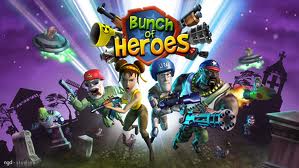 Bunch of Heroes is a new age cartoonish style Mmofps! Play as many different heroes as you fight evil! Get ready for intense Pvp battles, as you take on many other players who wish to be a hero! You don't need 1 hero, you need a bunch of them!
Post Date: 20:30 05-05-2015
Rating: 8
Author: LosmiK
Comment: This is the game that I've ever dreamed…everyone should play this game. I've loved this game since this the first time I've seen it.
This game my life has changed…Now I'm a better person, and I love Peppe Fetish and Giuseppe Saso.
Post Date: 15:59 07-02-2013
Rating: 7
Author: Mordekaiser
Comment: This game is great graphics are super nice and the gameplay is fun tons of weapons it only really fun with friends though like thedarkboy said i like this game because i can destroy hordes of zombies with meany different weapons and never get bored there are alot of level each level takes about 20 minutes to complete not alot of game play in total only about 4 hours but u can keep doing it with your friends or on a different difficultly i would have to rate this game a 7/10 graphics are nice hard to find a online game so can only play with friends and its a short game and every level the objective dosent really change
Post Date: 12:52 05-05-2012
Rating: 4
Author: Thedarkboy
Comment: Bunch Of Heroes should only be played with friends, otherwise you'd better get prepared to spend most of your playtime struggling to find games online. Bunch Of Heroes has a sharp, colourful art-style that will probably run nicely on even the humblest of setups. There are only 3 campaigns and 3 episodes per campaign included in the game. Each episode lasts between 10 and 15 minutes, so that's just over 2 hours of gameplay if you play through the entire game in one sitting. It wouldn't matter so much if the objectives or pickup placements were different each time, but they aren't. It wouldn't matter so much if leaderboards were included in the game, so perhaps in future playthroughs of a level you could at least beat your score, but they aren't included either – even though it does give you a score at the end of each episode.