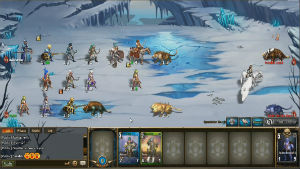 It's an unprecedented card-based MMORPG that combines RPG elements with trading cards, deck-building, and strategic, lane-based tower defense.
Post Date: 21:16 30-01-2015
Rating: 7
Author: axwellshm
Comment: I will honestly say that I am a big strategy-game fan, no matter is it card decking game or anything I am just amused of thinking of any possibilties in games. Since this game combine RPG elements, and strategic kind of playing I will rate this game 7/10. 🙂
Post Date: 12:42 09-11-2014
Rating: 5
Author: leydibaba
Comment: Its a super game u can fight its a strategy based on old charakters its super try it.
Post Date: 16:30 18-08-2014
Rating: 10
Author: ivekvv256
Comment: This is a very interesting, but yet wierd game. I'm usually not into this game, but this one was ok, and I had fun playing it. I can't say graphics are something great, but playing it is quite enjoyable. 10/10.
Post Date: 14:16 18-08-2014
Rating: 9
Author: FrendlyLeBlanc
Comment: I played this game before and this is cool game 🙂
9
Post Date: 06:05 12-08-2014
Rating: 8
Author: andrej213
Comment: One of the best card games , really cool i give 8/10 because i think graphic can be better
Post Date: 21:59 25-07-2014
Rating: 8
Author: Ckalja99
Comment: This is okcgame and i like playing it . Graphics are good and goal is really fine. It is nice game and from me a nice 8
Post Date: 17:29 14-05-2014
Rating: 8
Author: doca8
Comment: NIce game , like Heroes might and magic 🙂