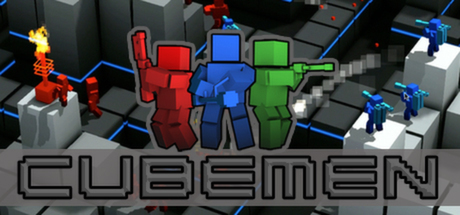 Cubemen is a fast paced, action packed, original 3D Tower Defense game that mixes TD with RTS in single player & online multi-­player awesomeness! Get ready for some crazy Cubemen action! It's the age old struggle between Good vs Bad, Blue vs Red, Little men vs Little men.
Post Date: 14:56 10-11-2014
Rating: 8
Author: arZ
Comment: Cubeman is a 3d tower defense game with a singleplayer or multypayer game mode … Its a really interesting and funny game. Lot of fun alone or with friends. I rate this game with 8/10
Post Date: 20:25 10-07-2014
Rating: 10
Author: FrendlyLeBlanc
Comment: Verry fun game an i enjoyed in her 🙂 I love this type game and 10
Post Date: 17:51 10-07-2014
Rating: 9
Author: Aki013
Comment: Not bad game,i like that all are in cubes ,graphic aren't bad and gameplay is good 9/10
Post Date: 02:46 27-06-2013
Rating: 8
Author: mmowiz
Comment: not bad if you want a mixture of a shooter and strategy game. it has a good sequel too.
Post Date: 22:35 27-03-2013
Rating: 7
Author: Mordekaiser
Comment: This game is very fast paced graphics are also very nice and its multiplayer and single player very good game worth buying for sure and playing i had a ton of fun with this game