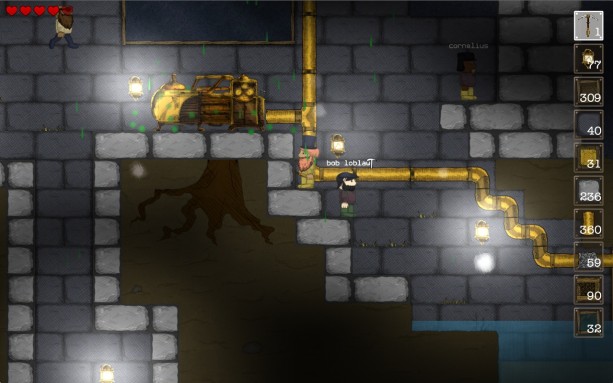 Deepworld is a 2D crafting adventure game with a persistent, online sandbox universe. Its built in the cloud, so you can join up with your friends at any time to journey through the depths, create new worlds, or visit other players fabulous creations.
Post Date: 08:42 11-11-2014
Rating: 5
Author: arZ
Comment: Deepworld is a jump and run game where are creating new underworld worlds. Something like minecraft but just in 2D. The graphic is not so good and the sound is boring. I rate this game with 5/10
Post Date: 13:40 03-05-2014
Rating: 5
Author: Frozen
Comment: game looks funny 🙂 i will try it.
Post Date: 22:45 02-12-2012
Rating: 10
Author: Mordekaiser
Comment: This game is great the graphics are top notch it reminds me of Terraria but the graphics are different you can build whatever you please like minecraft but not quite the game play is alot like terraria but anyway im done talking about what this is like and what it is not like lets get down to the facts you can play with friends kill stuff and explore and build WHAT MORE CAN YOU WANT IN A GAME FRIENDS KILLING ADVENTURE I RATE THIS 10/10
Post Date: 13:05 02-12-2012
Rating: 8
Author: Thedarkboy
Comment: This game was pretty fun to be honest. The graphics aren't the best but you forget about that once you start playing the game. I can't really say that it's one of my favorite games though, because it's pretty far away from that. But still this is a game that's worth to try. It's very fun to play, escpecially together with your friends