Diablo 2
From trading to making mods there is a lot to do online with Diablo 2 and its expansion pack, Lord of Destruction.
Top Online Game Rank by GameOgre: #6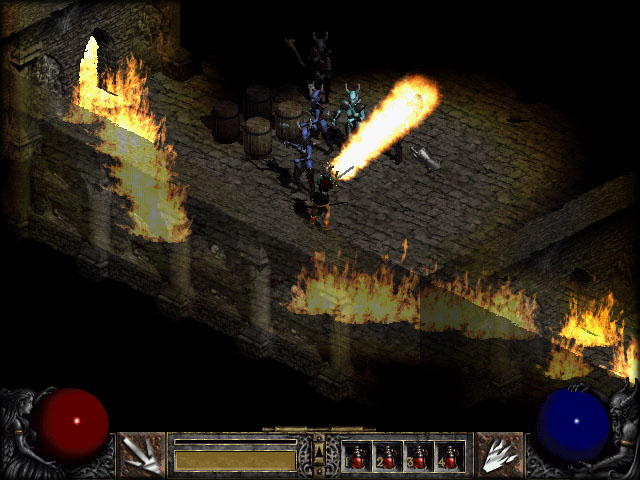 Select Review on Diablo 2 From GameOgre Review Member
Author: darkdragon1016
Rating: 10
Comment: This game is so great. If you get the upgrade Lord of Destruction there are tons of mods to download...
Diablo 2 Cheats and Strategies
Raise some hell with this wide assortment of cheats and strategies. From the famous Cow Level to Cube Recipes, it's all here.
Diablo 2: Lord of Destruction Cheats and Strategies
Cheats and strategies for Diablo 2's excellent expansion pack.
Middle Earth Mod For Diablo 2
Get a taste of Tolkien in D2 with this excellent mod from V&K. This mod only works with Diablo 2: Lord of Destruction, not just Diablo 2. You can visit the author's website for installation instructions and updates for the mod.
Harry Potter Mod For Diablo 2
Small mod (only 2.7 MB) that attempts to recreate some of the magic of everybody's favorite boy wizard.
GameOgre's Diablo 2 Review
This hack and slash RPG is far from being a new release, but it still has an online player base that only a few games can match.
Diablo Trading
Interesting attempt at e-commerce since the products are unique items on Diablo 2. Whether interested in buying or not, this site is a great way to learn about the rarest items in the game.
Baldur's Gate Mod
Homepage of the mod based on one of the most vaunted Computer RPG series of all time.
Sanctuary Corrupted Mod
Homepage of the Sanctuary Corrupted, Sanctuary in Chaos and Tough Guys mods for Diablo 2.
The Ancients: Fury Within Mod
New weapons and armor abound in this mod along with other nice features like hirelings learning new skills.
New Dawn Mod
Mod with a plethora of new items.
Tides of War Mod
One of the stand-out features of this mod is the increased size of your inventory, stash, and cube area. Works with the LOD expansion version 1.09.
Hell on Earth Mod

Introduces new/altered classes such as the Magehunter, Holy Knight, Tribal Lord, and the Rogue.