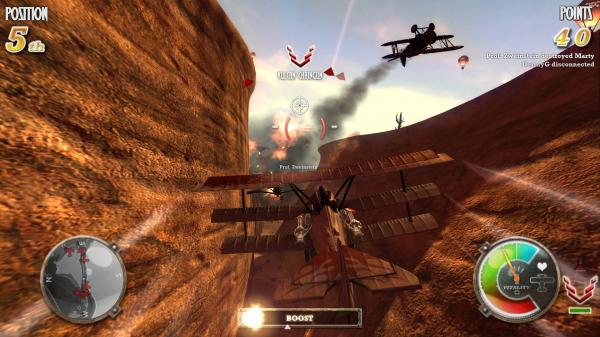 DogFighter is a fast paced, arcade aerial combat game with arena style gameplay values. Players can compete against up to 15 opponents in 4 multiplayer modes, or go solo in 7 single player game modes, using beefed up biplanes sporting over 20 different offensive and defensive weapons.
Post Date: 11:02 19-06-2015
Rating: 7
Author: dragosbuzz
Comment: Great fun for 10 minutes, nice visuals.DogFighter was built for casual players and we realize that the game mechanics. Dogfighter has a very strange mix of both hardcore and casual features.The graphics are pretty good and the plane models are extremely detailed.Game minuses are limited multiplayer, no campaign, small maps, bad controls, aiming is more difficult than necessary.
Post Date: 08:53 12-11-2014
Rating: 10
Author: arZ
Comment: Dog fighter is a combat plane game where you are controlling a plane is a competition. You need to be first to get the best result and after every race you can upgrade your defensive and offensive weapons. 10/10 rating!
Post Date: 17:50 25-03-2013
Rating: 10
Author: Mordekaiser
Comment: This game is very fast paced and super hard i mean really hard the most hard game ive ever played in my whole life and ive played alot of games this game made me want to play it when i seen the trailer and i seen the graphics and the amount of players and be in one match also its a classic i rate this game 10/10 you will suck at the start but when you play more you will be a real ace