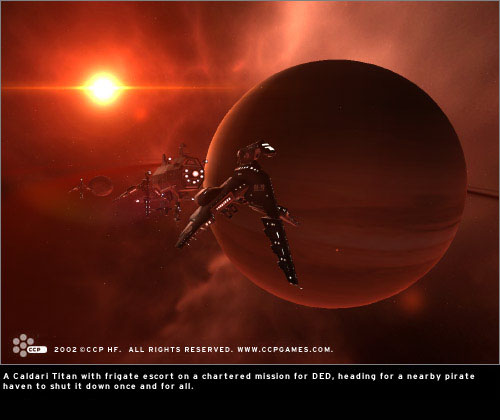 First round battle in the MMORPG Showdown series.
The Match-Up
You know what you will find in the majority of MMOs? You will see plenty of swords dragons elves and magic. However a distant second theme in the MMO genre is science fiction. Anarchy Online was the first major MMO to offer a sci-fi world but others like Eve Online Star Wars Galaxies and Neocron have joined the fray. Star Wars Galaxies could be the most despised MMO ever and Neocron and its sequel have not really achieved mainstream success yet so that leaves Eve Online and Anarchy Online as the two biggest players in this sub-genre.
Tale of the Tape
Eve Online
Offers a 14 day free trial.

A long-time resident of GameOgre's Top 10 Online Games List.

Recently released its Exodus expansion.

Players control corporations.

One of the best economies in an MMO.
Versus
Anarchy Online
One of the first sci-fi MMOs.

Can be played for free.

Had a lackluster launch but bounced back after Shadowlands only to follow it up with the the uninspired Alien Invasion.

Hopes to get back on the right track with Lost Eden due to large PvP battles. Can control huge Mechs in the battles.
Select Comments For Eve Online (Edited for Presentation)
Rating: 10
Author: Ohca
Comment: Deep very deep. Feels like you are in a sci-fi movie at times.
Rating: 10
Author: BeyondNJ
Comment: This game is beyond deep. Its almost real!
Rating: 9
Author: Mr. Peel
Comment: My second favorite MMORPG after WoW.
Select Comments for Anarchy Online (Edited for Presentation)
Rating: 3
Author: Ohca
Comment: The NetZero of MMOs lol. Was once fun but Eve Online has made it look old.
Rating: 7
Author: Mr. Peel
Comment: Although not as good as Eve still a solid MMORPG.
The Voting
Eve Online received a total score of 8.5
Anarchy Online received a total score of 5
The Result
Eve Online Wins!