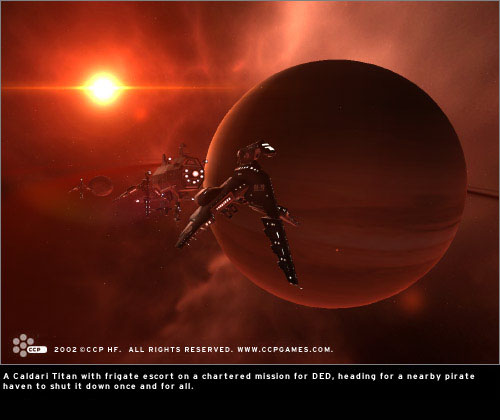 Game Description and Comments
Eve Online is a sci-fi MMO and is one of the Top MMORPGs as ranked by GameOgre.com and one of the Top Online Games as rated by Game Ogre review members. Instead of going the EverQuest route or even the EverQuest in space route Eve Online allows you to pilot your own spaceship in a dynamic sci-fi world.
The game consists of thousands of solar systems. Some of these solar systems are settled and some are not. Think of it as the old wild west in space where some areas were wild and not claimed yet. In this vast universe you can make money by trading mining recycling debris or transporting goods. These activities allow you to upgrade your ship for more legal money making activities or more dangerous ones such as being a pirate or a bounty hunter.
One of the most high profile and controversial examples of the considerable freedom in Eve Online occurred in early 2005 when contract killers infiltrated a major corporation and swiped billions of the game's currency. Yes definitely beats killing a rat for the millionth time!
Select User Reviews (Edited for Presentation)
Author: kristen
Rating: 10
Comment: I got hooked to the game after doing the 14 day free trial. The game had so many possibilities I was in awe. After about 3-weeks of dedicated training I realized that no matter how much time you put into the game you are still required to wait 20+ days for a few of your skills to train up. I picked up a nice ship quickly. Thanks to the helpful and friendly community there. Love the game!
Author: lightyears
Rating: 10
Comment: EVE Online is for those intelligent gamers. Because everything is based on freedom first time players may find themselves lost in the beginning but worry not the EVE community are always there to support answering questions advices etc. The game has massive content thousands of possibilities; combat tactics science builders miners mercenaries and bounty hunters. The game will be what YOU want it to be. There's no other game like this at all.
Author: nesseds
Rating: 10
Comment: This game has more depth than any other MMOG on the market. Eve Online is a little complicated at first but it's really worth it. Graphics are great and the community is very mature. This is the game that hardcore gamers are looking for!
Pricing Model
Eve Online is a pay-to-play MMORPG. One month plans start at $14.95 per month while longer plans allow you to pay less per month. If you want to try the game out before subscribing GameOgre.com readers can get a 14 day free trial.
Past Featured Online Games of the Week:
Supreme Destiny
Free 3D MMORPG with both an English and a Korean version.
Guild Wars
Retail RPG with free online play that won GameOgre.com's Best Gaming Value award for 2005.
Thang Online
Free 3D MMORPG with a huge focus on action and a unique monster system Thang Online.
ROSE Online
Cartoon-style MMORPG where you can have a major effect on the gaming world.
Conquer Online
A free MMORPG set in an ancient Chinese Kungfu world with nice anime-style graphics.
Rubies of Eventide
A free MMORPG that melds 3D graphics with incredibly deep gameplay.
Ragnarok Online
Popular MMO with cartoon graphics and several innovative features Ragnarock Online.
Ashen Empires
Medieval Fantasy MMORPG that was once known as Dransik.
Pardus
Free Massive Multiplayer Online Browser Game (MMOBG) where you can trade or pillage in space.
FlyFF: Fly For Fun
Check out a free MMORPG with colorful graphics and solid gameplay where players fly on boards and broomsticks.
Puzzle Pirates
Assume the role of a pirate on the high seas in this puzzling free MMORPG.
Maple Story
Take a look at a MMORPG with cartoon-style graphics that is free to download and play.
GunZ
A game that lets you live out your action movie fantasies online.
BattleMaster
A little-known free Online RPG with strong strategy elements.
Adventure Quest
Take a closer look at one of the more colorful free online RPGs.
Knight Online
Check out one of the best free 3D MMORPGs.
RuneScape
GameOgre.com takes a closer look at one of the more popular Free MMORPGs.