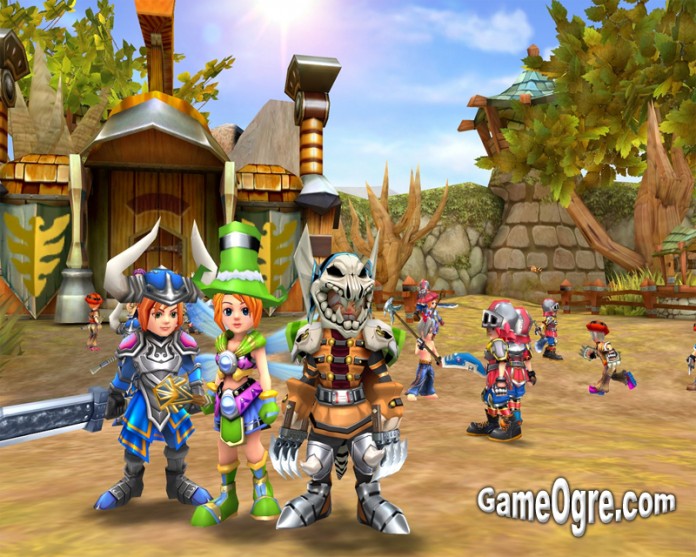 Second round battle in the MMORPG Showdown series.
The Match-Up
This week's match features two pay-to-play MMOs with a direct contrast in styles. On one side you have a science fiction MMO with a rather steep learning curve while on the other you have a fantasy MMO targeted towards younger gamers. Eve Online thrives with MMO gamers who love plenty of depth while ROSE Online caters to gamers that enjoy vibrant colors and a fun community. In the end Eve Online's complexity and economy defeated ROSE Online's colorful atmosphere. Eve Online never trailed in the voting but ROSE Online did make it close towards the end of the week.
Tale of the Tape
Eve Online
Offers a 14 day free trial.

A long-time resident of GameOgre's Top 10 Online Games List.

Recently released its Exodus expansion.

Players control corporations.

One of the best economies in an MMO.
Versus
ROSE Online
Seven day free trial.

Vibrant and colorful graphics.

Has seven planets with each planet having its own theme.

Three forms of transportation.

Players have a direct effect on the game world and can get their major exploits recorded on the game's website.
Select Comments For Eve Online (Edited for Presentation)
Rating: 10
Author: Adeori
Comment: One of the most fascinating games of all time! I played this once before when I was younger and got bored with it. However I tried it again recently and was addicted. This leads me to believe that the game is intended for the more mature players.
One of the only reasons this game gets negative comments is from the mass amount of WoW fanclub members and other immature video game players who don't understand the game. If you play finish the tutorial and at least play until you get your first ship! The tutorial is the most boring part but what game doesn't have a boring tutorial? Once you finish the tutorial and start playing for real you will be addicted immediately. Most of the immature people quit before the first day (it's why I quit once and tried it again later) and this leads to a great wholesome mature enjoyable community of about 20000 people on the server at a time!
Every element that exists in this game is great even the mining is fun! New content is constantly being added so you never run out of PvE content as far as skills or the world goes. If you see the map you'll be in awe since there are tons of zones to explore tons of quests to do tons of PvP action tons of skills and just tons of everything! Almost everything is player driven from the economy to some storylines. You can alter the entire world. Some people decide to be pirates and intercept other ships for money others are miners others crusade against NPC and player pirates and collect bounties and glory (in the eyes of the miner you might have saved).
This is the most in-depth perfectly made MMORPG ever. It will be the symbol of great MMOs for a long time to come. Community depth of gameplay amount of content PvP and PvE. Everything great about MMOs this game has it. The only exception is immature people spamming "WTB RUNESCAPE ACCOUNT!!!" and the like.
Rating: 2
Author: Mallack Nightblade
Comment: Its very tough and it's very slow if you don't have a decent computer. I love the graphics though.
Select Comments for ROSE Online (Edited for Presentation)
Rating: 8
Author: Pudge
Comment: Would have gave it a 10 but its now pay-to-play. The community is great and most of the players are friendly.
Rating: 9
Author: Mallack Nightblade
Comment: I played it for a while and it rocks although everyone is basically a gnome.
Rating: 4
Author: Banger
Comment: Not bad but it is more for kids.
The Voting
Eve Online received a total score of 6.75
ROSE Online received a total score of 5.25
The Result
Eve Online Wins!