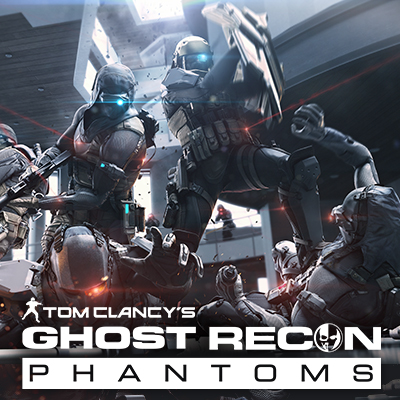 Ghost Recon Phantoms is free-to-play third-person multiplayer shooter game.There are three classes: Assault, Recon, and Support.There are three modes:Conquest,Onslaught and Holdout.
Post Date: 22:56 14-11-2014
Rating: 9
Author: Mihajlo
Comment: Tom Clancy's Ghost Recon Phantoms is third person shooter game developed by Ubisoft. Ghost Recon Phantoms features 3 game modes (Conquest, Onslaught and Holdout) and 3 different classes (Assault, Recon, and Support). Game is really fun to play and i'd recommend it to any shooter lover. My rate for this game is 9/10
Post Date: 15:31 08-08-2014
Rating: 8
Author: shaki997
Comment: its a free to play online third person shooter game in which tehnology is at its finest. Work with your team do defeat the enemy players using the newest tehnology pistols guns refiles, snipers and more. You can lay as an attacker that usually gets the most kills the support that usually assists the attacker or characters that are able to do both moderaatly which will you pick?!
Post Date: 12:24 25-05-2014
Rating: 10
Author: bloga99
Comment: One of the best games I've ever seen. Friend showed me this when it was, Ghost Recon Online.
I like to play with the Recon class because he uses invisibility 🙂 10/10
Post Date: 07:21 25-05-2014
Rating: 6
Author: ivekvv256
Comment: I liked the previous Ghost recon since I like reality shooters more then futuristic ones. But it's still a nice game to play with few modes to play which are lots of fun. I rate it 6/10
Post Date: 14:23 20-05-2014
Rating: 8
Author: Thedarkboy
Comment: Ghost Recon Online has been playable for about two years already, but now Ubisoft is charging on with what they see as a new beginning for Ghost Recon in free form. With a new title, improved graphics and revamped level design as the main temptations, the phantom ghosts in Phantoms have landed. I played Ghost Recon Online in the latter half of 2012 and were quite ambivalent. As solid as the foundations were, the atmosphere was as empty and bland. It should be said right away that this is a better version, but I'll take it from the beginning though.

The premise to gather 16 players in team based shooting battles in the Ghost Recon universe over the tray that is Free to play is really good. Here are three game modes (Conquest, Onslaught and Holdout) and a dozen maps. So far, so good. Phantoms shares many gameplay similarities with the underestimated Ghost Recon: Future Soldier, which I only see as a positive thing. It's never as seamless or full-fledged, but still smooth and easy to learn. Crouching behind walls and then peek out for some shooting at the right times is a large part of the charm. The fact that there's no official support for controllers is a little bit strange, but it is increasingly obvious adapted to work brilliantly with mouse and keyboard, so I can live with that, although I usually prefer third-person perspective with a controller in my fists.

The focus on teamwork is very present. You are always linked with your teammates through your heads-up display and you'll always be aware of where they are, making coordinated attacks which suits itself more easily here than in most other multiplayer games of the same type. It's good thing, since you rarely survive without any help.

There are three classes to play as – Assault, Recon and Support, which does almost exactly what you'd expect, with a few surprises. The support class can surround themselves by a bubble that protects against bullets during a period, the infantry class can pick up a bulletproof shield and sprint against enemies for a dangerous comeback and snipers can camouflage themselves to easier use their rifles. They feel quite well balanced and the key to success is usually to have a team that uses their character's abilities effectively.

There's also a nice upgrade system, built to enhance your weapon's efficiency in areas such as damage, accuracy and reload time, which, admittedly, is something that creates a reason to play on. It is a proven concept that is done well here and I myself have experimented with my sniper rifle to a meaty and dreadful slaughter machine.

Design-wise, on a purely aesthetic plan, it all feels quite flat and sleepy in a way that Ghost Recon never have been before. Ubisoft flirts a little too strongly with blue neon lights and sterile metal surfaces in its architecture, which does not emit any appreciable positive signals into my memory bank. It is indeed better than in the previous version I played in 2012, but I had hoped for more in this regard. Fortunately, the maps operates better in a practical way, with several layers of height differences and smartly positioned routes. Many of the maps are redesigned both in appearance and shape, which really is brilliant to see.

The matches unfortunately tends to run longer than the entertainment factor can offer, which is regrettable. This is a game with a fast and intense action on small maps, but some matches are way too protracted. It's not entirely clear as a bell, and it kills a bit of the joy and seem to thwart the motivation to play on.

To play Ghost Recon as a F2P game is ultimately a pretty impressive experience and I really like the tight control pad, the partnership approach, ranking system and the smart way to deal with micro-transactions on the matching of players. The developers have also said that Phantoms will continue to evolve and new content is to be expected. The future looks quite bright.
Post Date: 02:29 15-05-2014
Rating: 10
Author: Mordekaiser
Comment: another awesome ghost recon much better then the first with improvments to everything and its a blast id play this any day 10/10