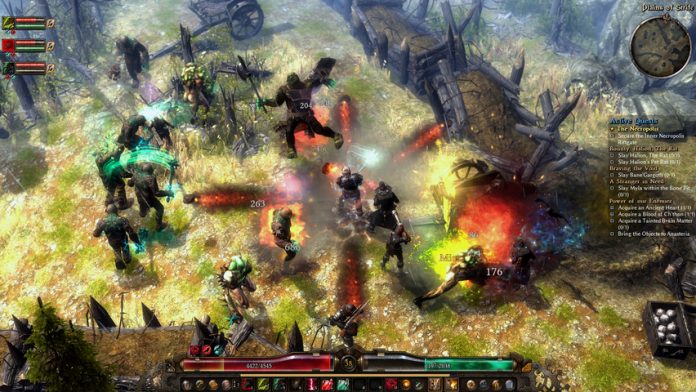 Description and Comments
Grim Dawn is an action RPG (ARPG) a.k.a. hack and slash game that launched on February 2016. Great games in this popular genre have been somewhat slim over recent years. Several games come to mind that have been good and shown flashes of brillance like Van Helsing and Victor Vran, but there hasnt been that real blockbuster the way that the Diablo series has been. Sure, there have been good to middling action RPG series like Sacred and Dungeon Siege but both those series seem to go down with each new installment.
Grim Dawn, on the other hand, could be the start of a true rival series to Diablo as the game is that well made. Instead of being a Diablo clone, Grim Dawn looks to innovate the whole genre. You can see this in the game's complex character development, dual class system, factions that add a new layer of gameplay, game choices that really matter, and rogue-like Dungeons. Play the game yourself and you will see why it is easily the best ARPG in years.
Furthermore, the GD runs surprisingly well for being so new. I have a 2009 Alienware and it runs great after the game first loads. In contrast, most new games, especially those that require Direct11 and above, do not run at all or you wish they didnt. Nothing is worse than a beauitiful game scene turn into a slow moving sideshow that freezes your rig eventually. Instead, Grim Dawn runs like a dream with stellar game play and beautiful graphics in some areas. If you read this within the next month, be sure to buy the Humble Monthly for $12 to get GD and seven other games. You can't beat that type of a bargain on the best Action RPG today.
Features
1. Action RPG
2. Can play multiplayer or single.
3. The current Humble Monthly preview game.
4. Has DLC that can be bought.
5. Innovative dual class system.
6. Great loot.
7. Choices actually matter.
8. Factions that can peaceful or hostile towards you.
9. Hundreds of unique skills.
10. Rogue-like dungeons.
11. Hundreds of crafting recipes.
12. Dynamic weather.
13. Complex character development.
14. Can run on older systems.
Pricing
Grim Dawn is full priced at $25. However, it is Humble Monthly's preview game for the rest of September. That means it can be bought for $12 there and you get the rest of the games in th ebundle to boot.