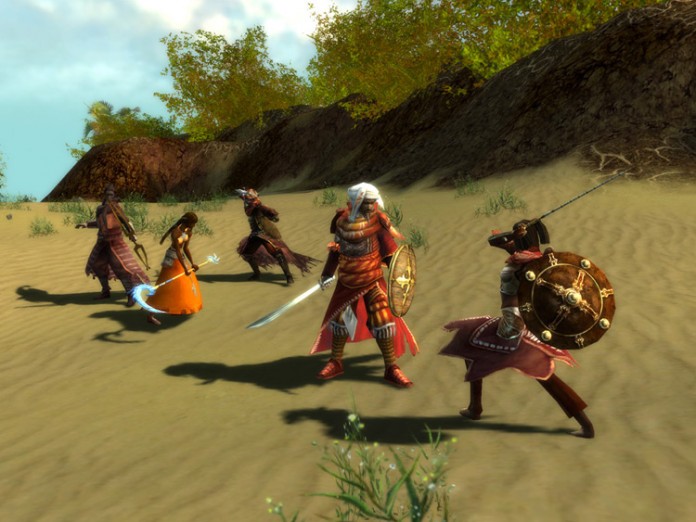 Semi-final battle in the MMORPG Showdown 2 series.
The Match-Up
When asked about MMOs with no subscription fees and great graphics these are two of the first games that come to mind. Guild Wars has been a monster hit and has won a number of awards on GameOgre while Rappelz arrived with a large splash of its own. Unlike Guild Wars Rappelz does not require to be bought before playing and it offered superior graphics far above any game of its kind when it launched. In fact Rappelz looked like it was on the verge of becoming a major force in the industry like Guild Wars. However things have not quite turned out that way. The game has been hurt by many factors such as gold farming too much grinding user discontent over pointing and clicking and a lackluster PvP system. In addition other great looking free MMORPGs like Sword of the New World arrived this year to lessen the game's biggest strength. Guild Wars did not have its best year this year due to announcing that the series would end and the fact that it only made an expansion pack instead of a full-blown campaign like Nightfall and Factions but it still had a much better year than Rappelz. Voters seem to agree as Guild Wars took an early lead and never looked back. What could have been a tough test for Guild Wars ended up being total domination for the winner of the first MMORPG Showdown.
Tale of the Tape
Guild Wars
Free game play after buying the game.

Winner of the first MMORPG Showdown.

GameOgre.com's Online Game of the Year for 2006.

Primarily instanced content.

Two successful expansion/sequels.

Strong PvP focus.

Henchmen and Hero systems enables more solo play.

Level cap is 20.

Finally had a regular expansion and will have a sequel.
Versus
Rappelz
Free to play.

Great graphics for a free MMO.

Sells items through a cash shop.

GameOgre.com's New Free MMORPG of the Year for 2006.

Each of the three races (Deva Asura and Gaia) has its own theme and home city.

Fun pet system. Pets include such various creatures as orcs yetis and skeleton warriors.

Has major updates or versions known as Epics. The game is currently in Epic 4.

Players use force and soul chips to seriously impact battles.
Select Comments For Guild Wars (Edited for Presentation)
Rating: 10
Author: iannnc
Comment: This game is my favorite! The gameplay is really fast-paced and is fun unlike other MMOs. This game is also more of an RPG too because you follow a storyline through missions that take you to different countries and to fight various monsters. You can get a lot of skills and items in this game too. There are also a few expansions that give you new classes items and a totally new continent to explore. The game has really nice graphics as well.
The only thing that might throw people off is the cap level is 20 and you can technically beat the game. However there is so much more to do in this game besides quests and missions. You can go to special areas like the underworld or fissure of woe and there are a ton of different titles you can try to obtain.
My favorite part of the game is the guild system and PvP. This game's pvp is the best of any other MMO around. You can do alliance battles fight at the numerous arenas go to the battle isles or do a guild versus guild match. You can form alliances with other guilds choose a faction and buy numerous upgrades for your guild too. Get Guild Wars! You only have to pay for the game and the expansions are optional. After that there is no monthly fee!
Rating: 8
Author: Avion
Comment: This game is awesome and there are a lot of professions. However it starts to get boring when trying to get money for armor. Still Guild Wars is a great game overall.
Rating: 10
Author: coolnessio
Comment: This game's graphics are beautiful and unlike wow or any other MMO it has an actual storyline with an actual set of story missions. Also paying for this game and all its expansions only comes up to about 150$ while WoW or LOTRO is $15 per month. Plus this game's PvP was voted the best out of any MMO on most game sites.
Select Comments for Rappelz (Edited for Presentation)
Rating: 2
Author: Nacireen
Comment: The graphics are nice but not nice enough to stand out compared to other free games that have come out in the past year. The grind is long but not terribly boring. At least there are repeatable quests for when you run out of normal ones so you aren't stuck with a pure grind. My major complaint is the fact that the developers have outright said they will NOT add keyboard movement to the game which is a very big deal in my opinion. In addition the only kind of player market is individual stalls. This game even lacks one central place where stalls are. To check everything for sale you have to visit each town and even then you may miss some as people open shops in the oddest places. The lack of keyboard movement combined with the need for player stalls and the average graphics really ruin this title.
Rating: 2
Author: moomoocow
Comment: Fantastic graphics but it has the pointless click-and-pray-you-beat-it thing. Not to mention clicking stuff and hoping it dies is as much as you can do here. I give it a 2 just for the graphics.
Rating: 7
Author: Jrod
Comment: It is a free game with an item shop that has great graphics. Although it is click-to-move the PVP system is one of the best in an MMO. However the game is very grindy and takes awhile to level.
The Voting
Guild Wars received a total score of 8.5
Rappelz received a total score of 2.86
The Result
Guild Wars Wins!