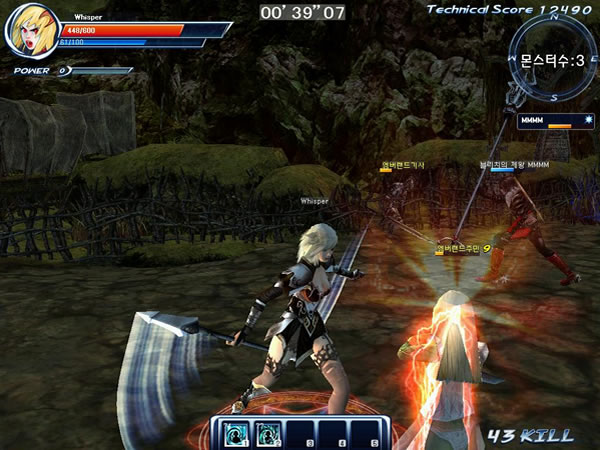 Infinity is a frantic free-to-play multiplayer online game. Enter the fray with your favourite warrior and guide your guards against other players or side by side with your friends in the cooperative mode. Infinity is focused on hack-and-slash action, an exciting fantasy setting and a good choice of customizable warriors. Developed by Windysoft, this title and its challenging missions will fulfil the need of any adrenaline addicted gamer! You start the game logging to a main lobby, from which you can create or join a room to run either player vs player competitions or cooperative player vs environment scenarios. Players are credited with reputation and experience for participating in pvp, while in pve you get loot and money. Four characters are available when you start, but you can unlock more buying them with the in-game currency.
Post Date: 19:41 01-06-2015
Rating: 9
Author: LosmiK
Comment: I played this game online with friends, I can tell you that I really like.
Post Date: 12:59 24-11-2014
Rating: 8
Author: Mihajlo
Comment: Infinity Online is a free to play action online game developed by Windysoft. Game features 2 modes: PVP (Free for All, Team or Random) and Mission (co-op) mode; there are 9 playable characters (4 of them are free). I rate this game 8/10.
Post Date: 13:23 29-05-2014
Rating: 10
Author: ivekvv256
Comment: This is an interesting game with many things you can do around there. You can do lots of missions that will keep you occupied. If you want battles this game has got it aswell. I reccomend that you try it out since it's really a great game with ok graphics and it's simple to play it. 10/10
Post Date: 11:49 22-12-2011
Rating: 9
Author: Thedarkboy
Comment: This game is a great game. It reminds me a little of Rakion. It's really funny and I recommend this to many people. You can create rooms or join other rooms where you can run pvp or cooperative players vs environment scenarios. Really funny.