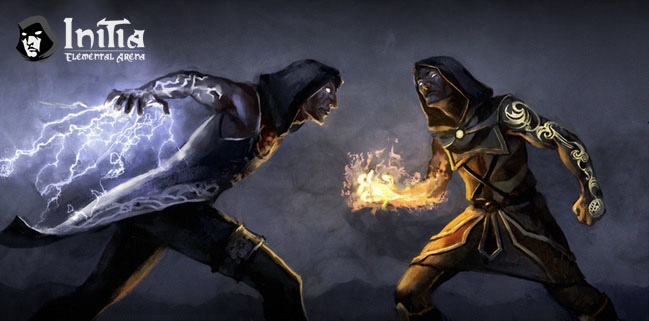 "Initia: Elemental Area" — An Exciting, Revolutionary Sorcery Arena Shooter Game
From Gentle Ghouls Ltd., comes magic, strategy, & frantic team- based gameplay!
BIRMINGHAM, United Kingdom—January 25, 2016—"Initia: Elemental Area," an exciting, revolutionary sorcery arena shooter video game, was recently announced. From Gentle Ghouls Ltd., comes magic, strategy, & frantic team-based gameplay! "Initia: Elemental Arena" is a back to the roots of the multiplayer online battle arena game but with a new and fresh twist. It blends frantic team-based gameplay of first person shooters like "Unreal Tournament" & games like "Skyrim," with the more strategic approach of "League of Legends" and "Defense of the Ancients." It is also comparable to the game, "Heretic." The game is a mix of fast-paced action of arena shooters, progressive gameplay of a MOBA, and it has maps that force players to work together in a team. It's competitive and fun combat, for instance having a team healer with a flame thrower! The story of the game follows Mages of Chaos & Order, who harnesses the raw power of ancient elements in a battle for supremacy. Each element offers different strategic advantages against the opposition. Players can displace enemies with the power of the Wind Element or watch their enemies burn as players wield the power of the Fire Element.
"Initia: Elemental Area" also offers truly unique maps that combine design, and objective variety. They currently have two in development. Their first map is set in a Cave, where if players capture and hold both strategic positions called Nodes. If their team maintains control over both nodes, they can become a powerful Arbiter (basically a god-like juggernaut). As an Arbiter, they can march with their team to destroy the enemy's core and seize victory. The second map is a cluster floating islands that features low gravity jumps and air control. There are three massive towers that get activated at random, if players capture the tower, it will start firing directly at their enemy's base. Towers have limited shots before they go dormant again. Gentle Ghouls Ltd. is hoping to release the game on Steam Early Access by May 2016. However, before everyone can enjoy this game that reimagines the first person shooter for PC, Gentle Ghouls Ltd. needs help. That's why they launched this Kickstarter campaign. The goal of this project is to raise £20,000 by February 19, 2016. The funds raised will go towards the final stages of development and release. More specifically, funds will be going towards testing, early balancing, sound design, the creation of the game menu and lobby, and more.
To help bring this innovative game to market, please visit the Kickstarter campaign or click here. Perks will be delivered between March 2016 and April 2016.
Please keep in mind this is an "all-or-nothing" deal, which means if the campaign does not reach the funding goal then the project cannot move forward. So know that any amount given can make a difference, and this is an incredible opportunity to be a part of a special campaign! Help "Initia: Elemental Arena" reach the goal by sharing this on Facebook, Twitter, and other social networks. The more people know about this, the more support the campaign will receive.