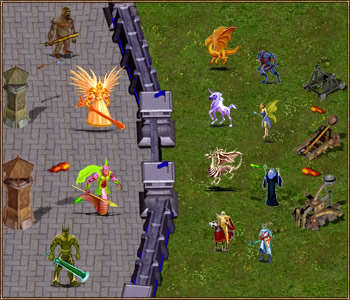 King-war is a free multiplayer online strategy game that situated on a continent where five races dominate: Human, Undead, Elven, Beast and Monster. You will be a monarch, who controls a kingdom with one castle, coexists with other players. You can upgrade technologies, build structures and recruit armies with resources.
Total Rating: 5.40
Reviews: 5
Review Archive
Post Date: 18:07 03-12-2014
Rating: 6
Author: paksupro4
Comment: This is free multiplayer strategy game. It looks like heroes of might and magic for me and i love it bcs of it . In game you have 5 race and every race have them selfs armyes . I love that old graphic so its good for me . i rate this game with 6/10
Post Date: 21:25 20-10-2013
Rating: 1
Author: Mordekaiser
Comment: Simple Game graphics are not the best but they are alright it makes this make feel like a classic but the gamplay dose not it is very repetitive and boring as all hell its to easy and its not multiplayer i hate this game i dont recommend it at all
Post Date: 17:42 23-12-2011
Rating: 6
Author: Thedarkboy
Comment: This is an OK game. Not the best or worst. It was pretty funny in the beginning but got boring pretty fast. I don't like the graphics at all. 6/10
Post Date: 23:41 26-12-2010
Rating: 4
Author: conscious
Comment: The game is very similar to the Lord of War. It' very fun game for strategy. The graphics look so cool better than Age of Empire 2.
Post Date: 01:49 11-11-2009
Rating: 10
Author: popgamebox
Comment: This is very funny strategy war game. I like it very much.