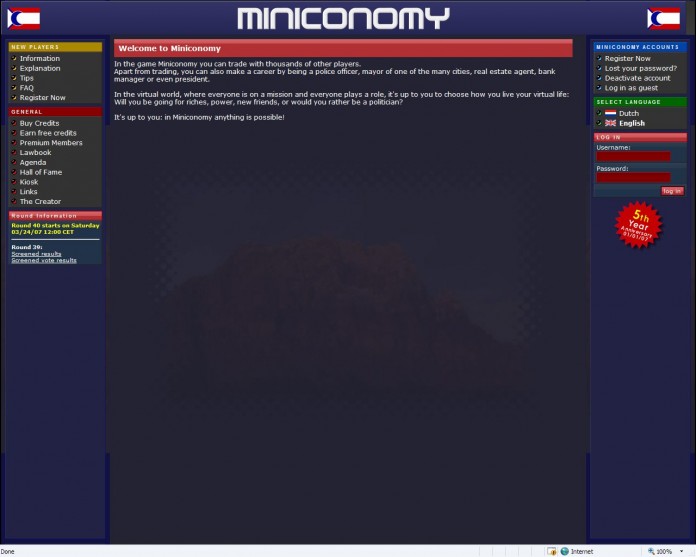 In the game Miniconomy you can trade with thousands of other players. Apart from trading, you can also make a career by being a police officer, mayor of one of the many cities, real estate agent, bank manager or even president. In the virtual world, where everyone is on a mission and everyone plays a role, it's up to you to choose how you live your virtual life: Will you be going for riches, power, new friends, or would you rather be a politician?
Post Date: 00:23 30-07-2009
Rating: 10
Author: FreeCol
Comment: A really fun game once you learn how to really play, though unless your store is on the cities main street, your not gonna get shit. And That0neguy1, you dont recomend it because you never learned how to play right? A thing I noticed is when people are reviewing a game they dont like they exaggerate(Misspeled, that was too) alot, I played on the English Island and only met one guy who was Dutch, and shugo, do you even know what the hell your talking about?
Post Date: 14:39 03-05-2009
Rating: 3
Author: shugo
Comment: pay to win game, where noone even bothered to pay to win. The community is dead and the game is dead. Miniconomy is simply the most boring game I ever played.
Post Date: 17:02 16-12-2006
Rating: 8
Author: Furywind
Comment: It's a great game. I agree about the difficulty in learning to play the game initially, but once you get the hang of the basics, it's really addictive. Use one round to get to know the game, then you can slowly move on from there, get to know the older players.

As for the language spoken, it's dutch, not German. Most the players are from Holland. But as stated before there is an English based island, with players from all over the world really.
Post Date: 02:52 02-10-2006
Rating: 9
Author: Lancekyo
Comment: Its actually a fun game once you get the hang of it. It has a steep learning curve, but not every player speaks German, I actually found quite a few helpful English speaking people in the English Country on the game.
Post Date: 18:19 25-08-2006
Rating: 0
Author: wraith654
Comment: yes that0neguy1 is right but he forgot 1 thing once u do figure everything out its VERY VERY BOOOOORING
Post Date: 18:01 11-06-2006
Rating: 2
Author: That0neguy1
Comment: this game is not a very user friendy game first of all only people from countries like Europe and Germany play it so u cant understand a word of what their saying if u dnt speak those and the whole thing is hard to figure out ur in this little gpa thing and it sais build or buy its just not fun at all i don't reccomend it at all.